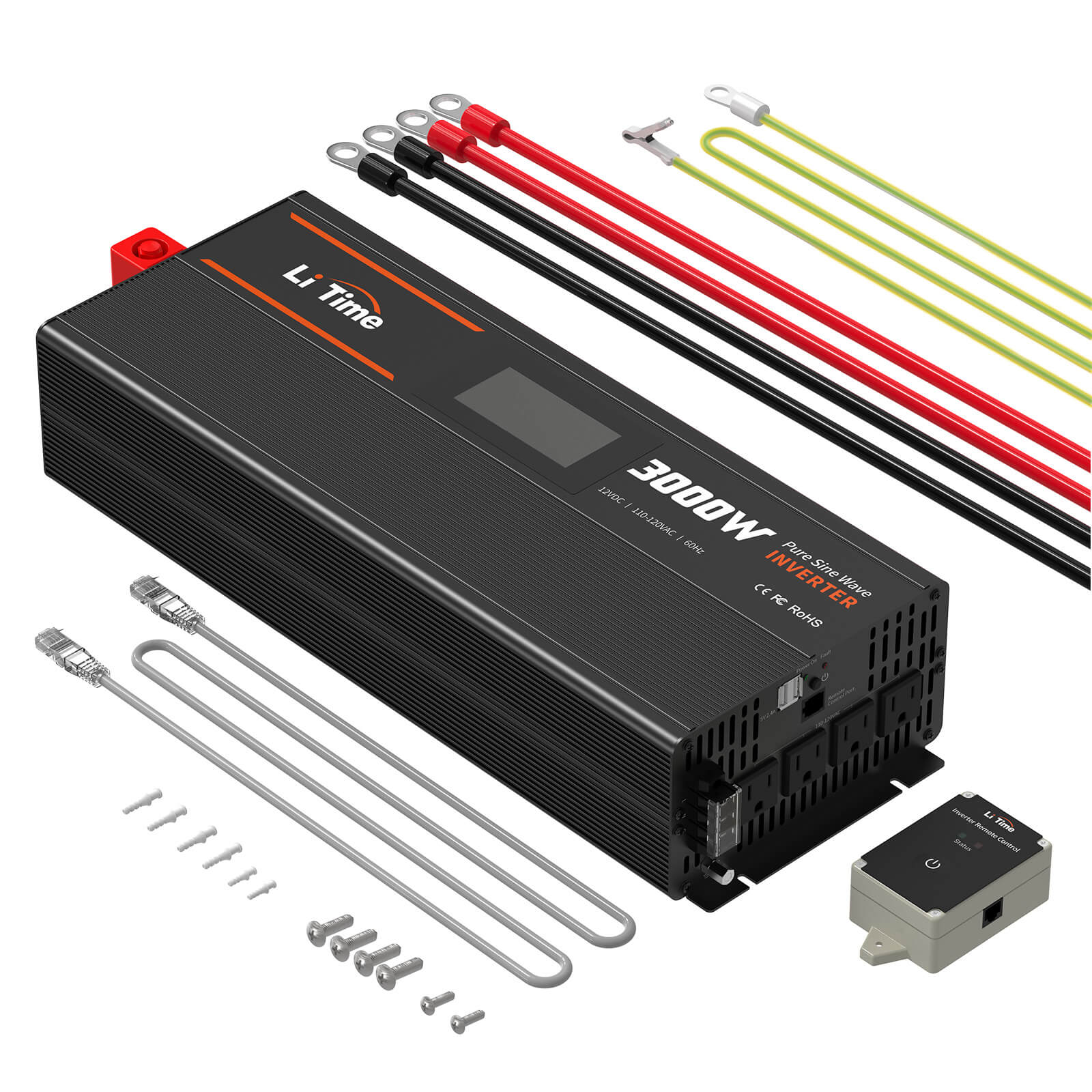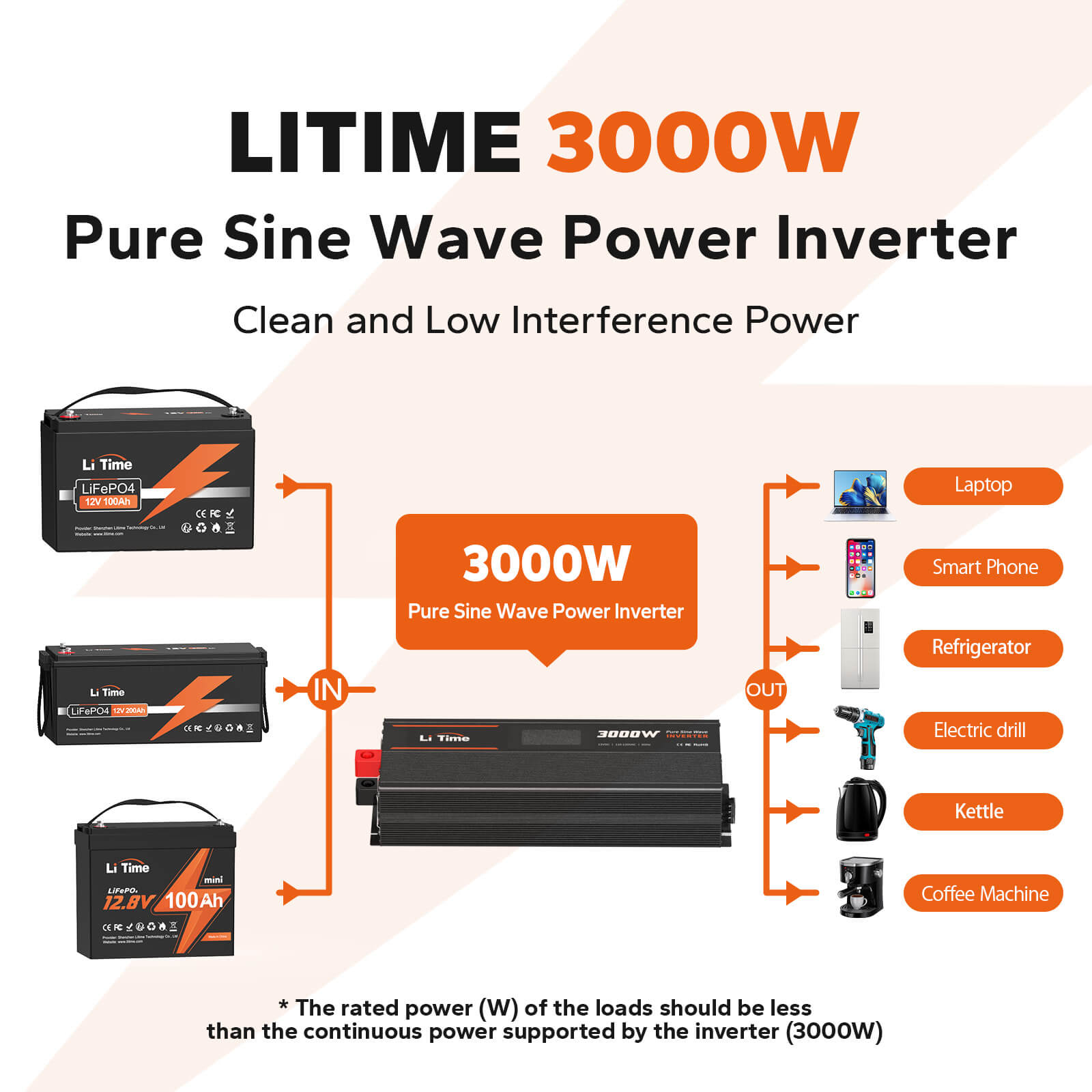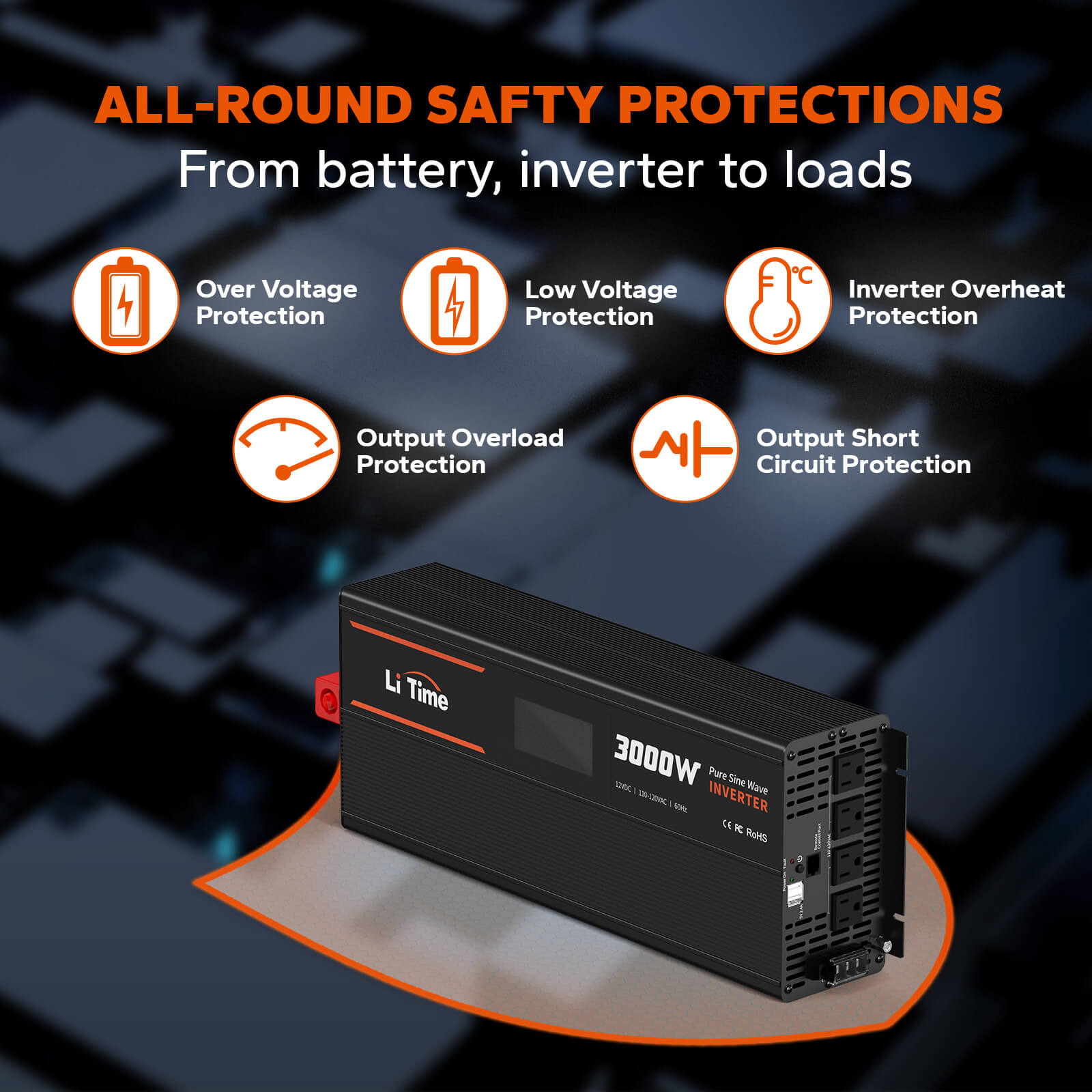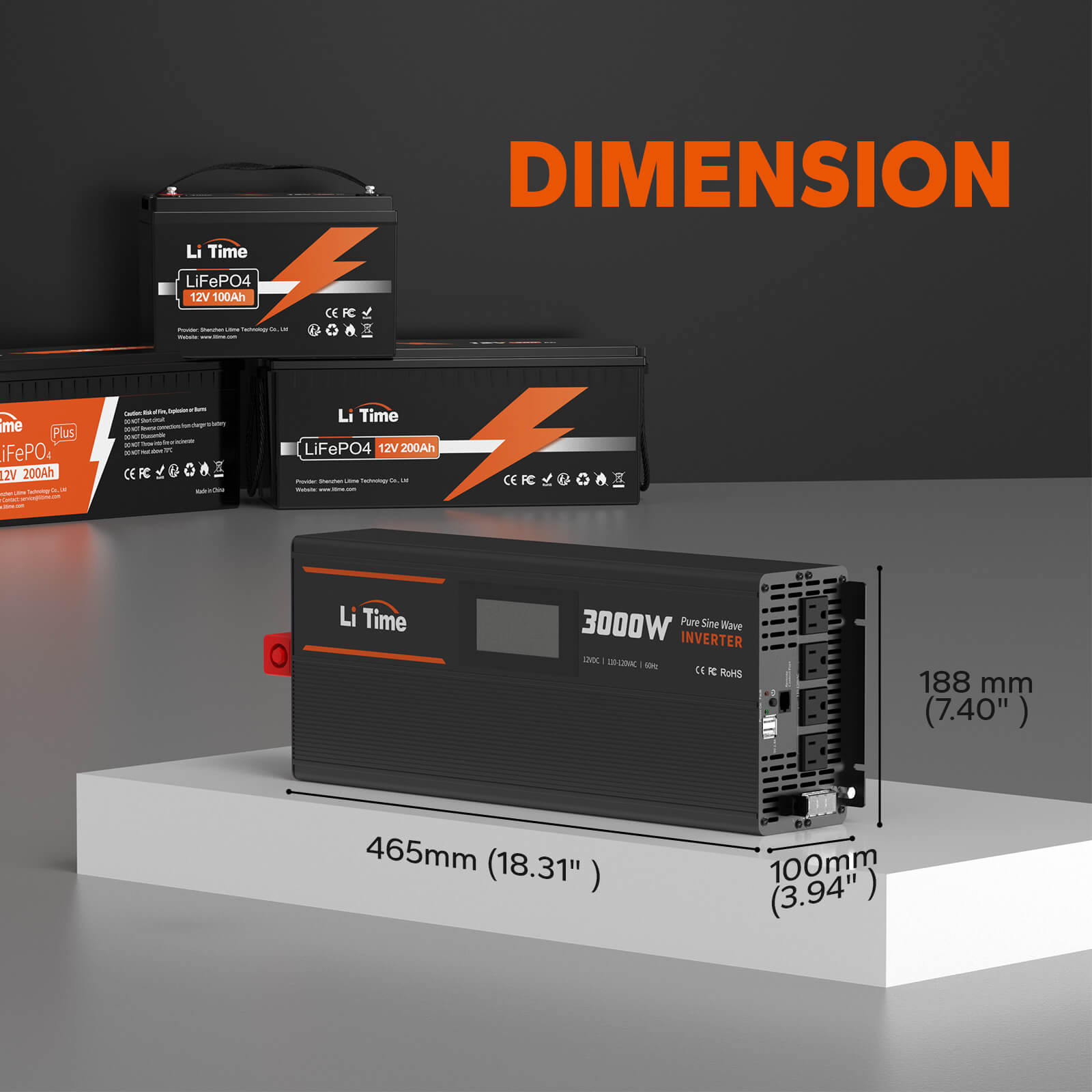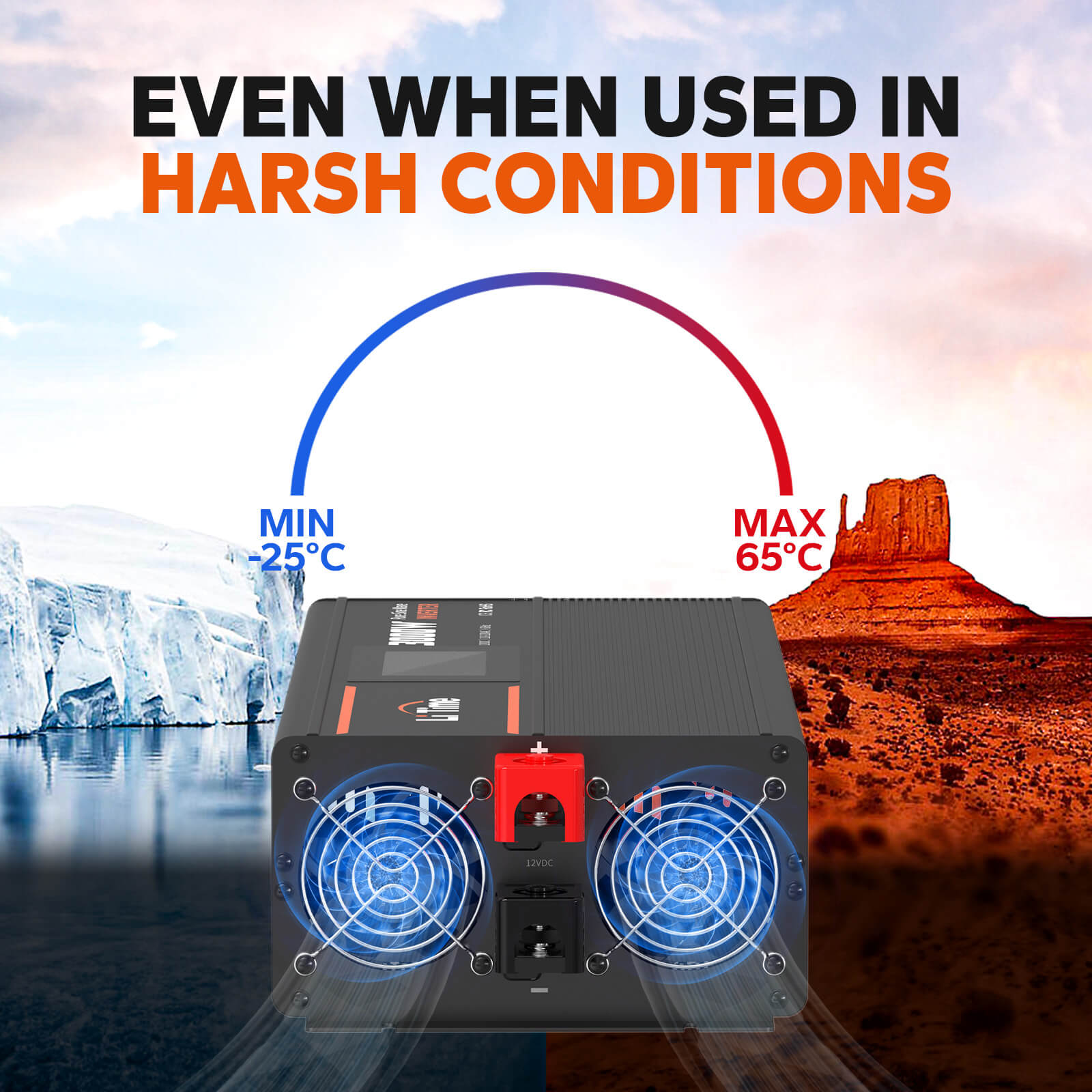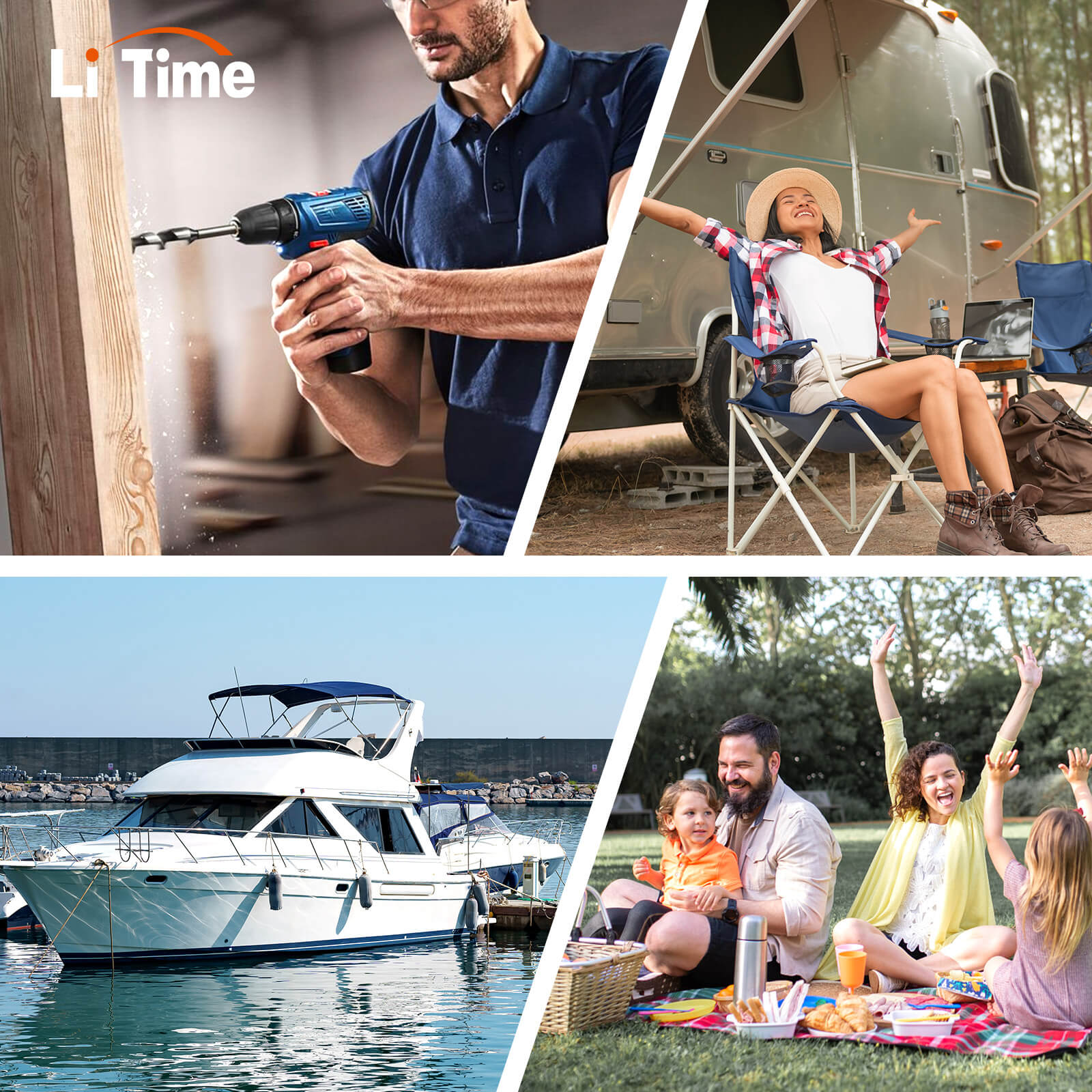 LiTime 3000W 12V Pure Sine Wave Inverter
【3000W Pure Sine Wave Inverter】LiTime 3000W pure sine wave inverter efficiently converts 12V DC power to 110-120V AC power. With a peak of surge 6000W power, it provides clean, stable, and low interference power output for all appliances to operate stably in the long term.
【Versatile to Use】Operating from -25°C to 65°C with dual cooling fans for flexibility in diverse locations, it is ideal for off-grid solar systems, camping, RVs, and indoor devices.
【100% Safety Protection】All-around protections include under/over voltage, overheating prevention, overload, and short circuits for connected devices, safe and reliable.
【Intuitive Monitoring】The monitoring LCD screen provides instant access to the real-time status of the battery, inverter, and loads, easier and more convenient to use.
【Easy Setup】LiTime 3000W pure sine wave inverter equips with accessories including 1.64FT inverter cables*4, ground cable*1, remote control*1, remote control cable*1, remote control mounting screws*2, plastic anchors*2, inverter mounting screws*4 and plastic anchors*4.
【Prompt Customer Service Support】We provide 24-hour professional technical support and customer online service. Please feel free to contact us, we will do our best to meet your needs.

Please hurry! Only 23 left in stock
Free Shipping
Free standard shipping on all orders
Estimated to be delivered within 2-5 business days.
2 Years Warranty
Backed up by techical support within 24hrs.
Free Returns
30 Days Hassle Free Returns
SPECS
BASIC
Peak of Surge Power:
6000W
Input Voltage Range (VDC):
9.5V-16.5V DC
AC Output Voltage:
110V AC±10%
PROTECTION
Low Voltage:
DC 9.5V±0.5V
Over Voltage:
DC 16.5V±0.5V
OTHERS
Operating Temperature:
-13°F to 149°F/-25°C to 65°C
Dimensions (L*W*H):
L18.31 * W7.40 * H3.94 inch
Weight Approx.:
13.23 lbs/6 kg
FAQ
Q: What things should I think about before installing an inverter?
A:Three data points must be confirmed. (1)The rated power (W) of the load to be run. (2) Expected runtime (hrs) of the load. (3) The nominal voltage of the selected battery type and voltage.
Q: Are there any precautions I should take when connecting the inverter to the loads?
A:Avoid switching on the inverter with the load already turned on. This may trigger an overload since some electronic devices have an initial high power surge to start.
Q: What kind of load can the LiTime 3000W pure sine wave inverter handle?
A:The rate power (W) of the load should be less than the continuous power supported by the inverter (3000W). Pls note that the inverter efficiency=inverter output power/inverter input power, 85% is the usual conversion efficiency of the product.
REVIEWS
the best 3000 12 v pure sine wave inverter i bought
im veary happy i bought the 3000 v pure since wave inverter from litime i was surprise how big and how heavy its made i wil give it 5 star i was pain in the ass with them they treat me like a king i plan buy more stuff there the best you ask for help theywill help you
the best 3000 12 v pure sine wave inverter i bought
im veary happy i bought the 3000 v pure since wave inverter from litime i was surprise how big and how heavy its made i wil give it 5 star i was pain in the ass with them they treat me like a king i plan buy more stuff there the best you ask for help theywill help you