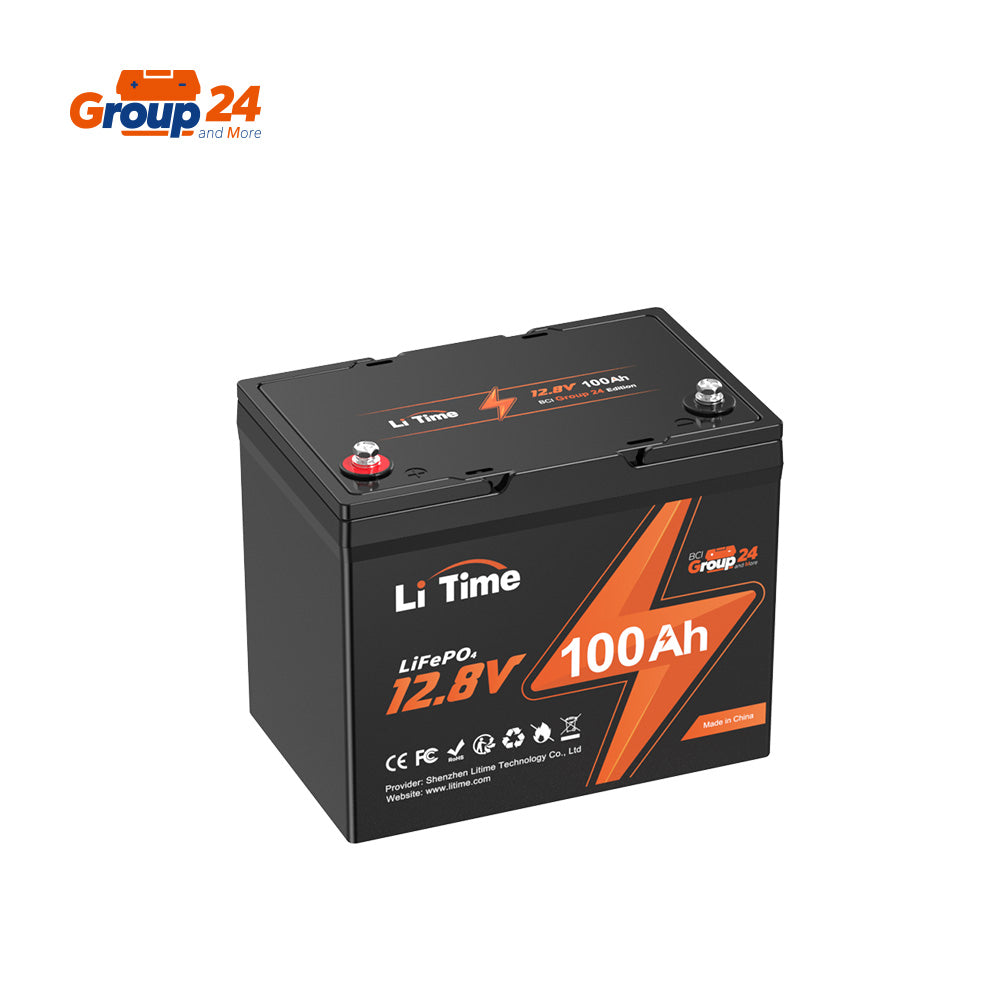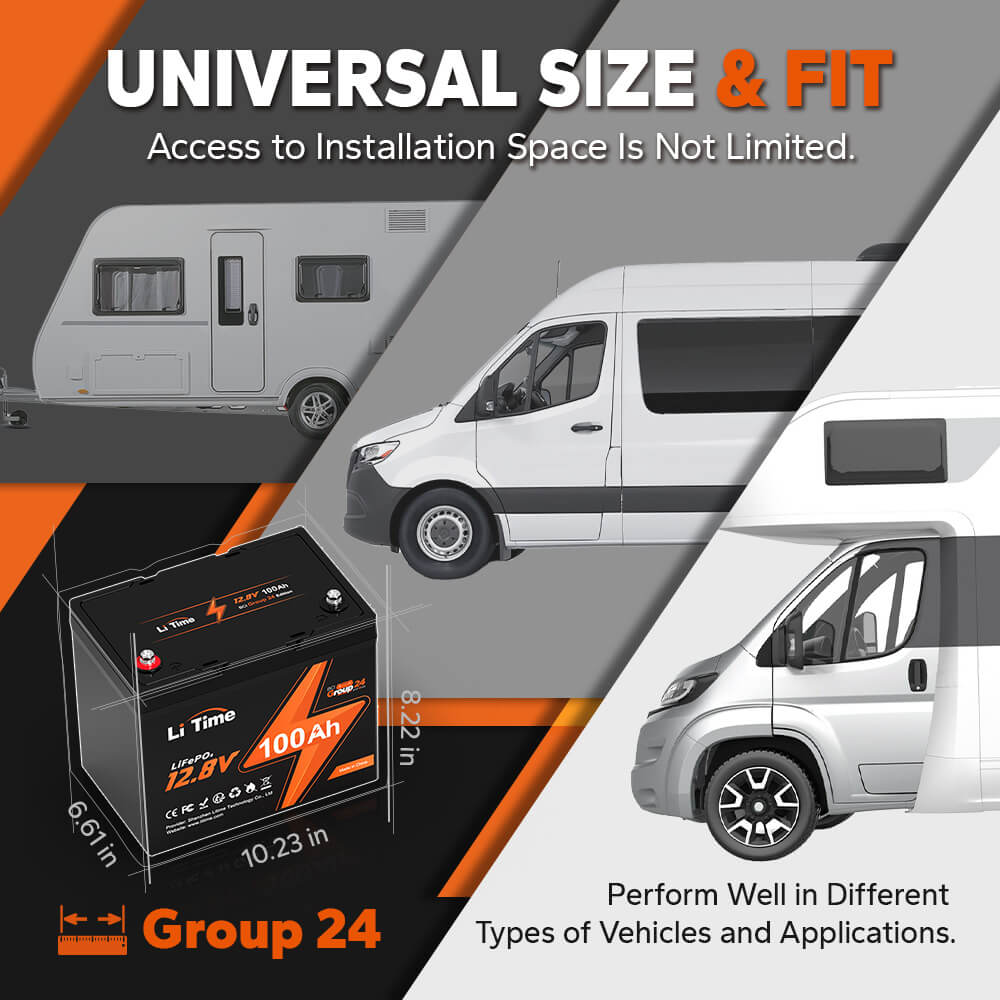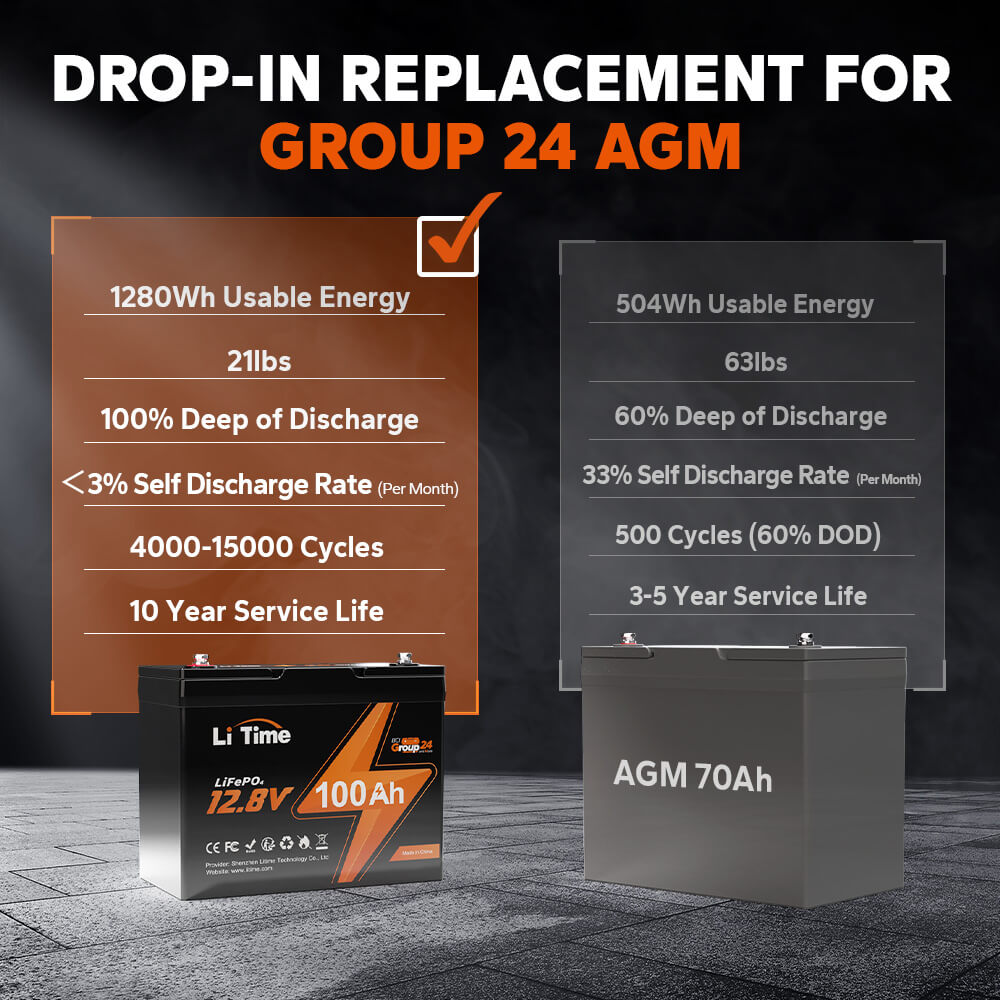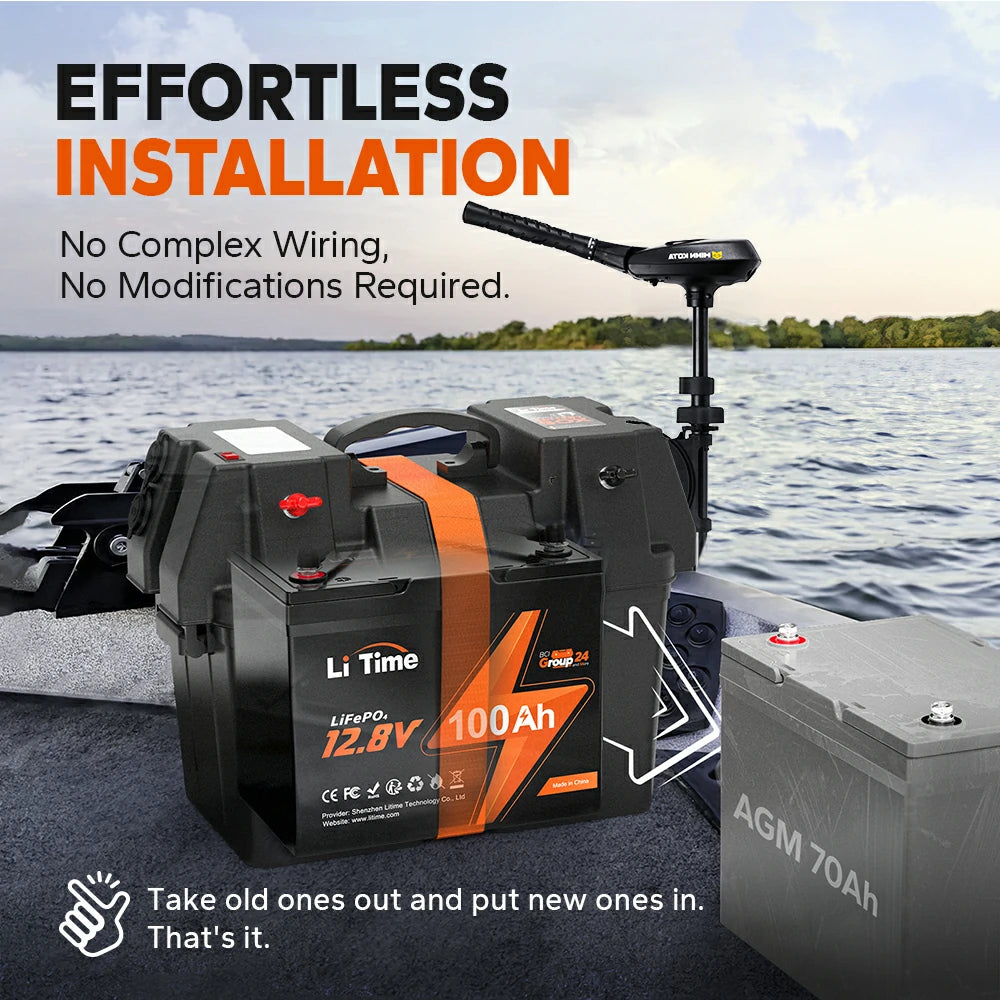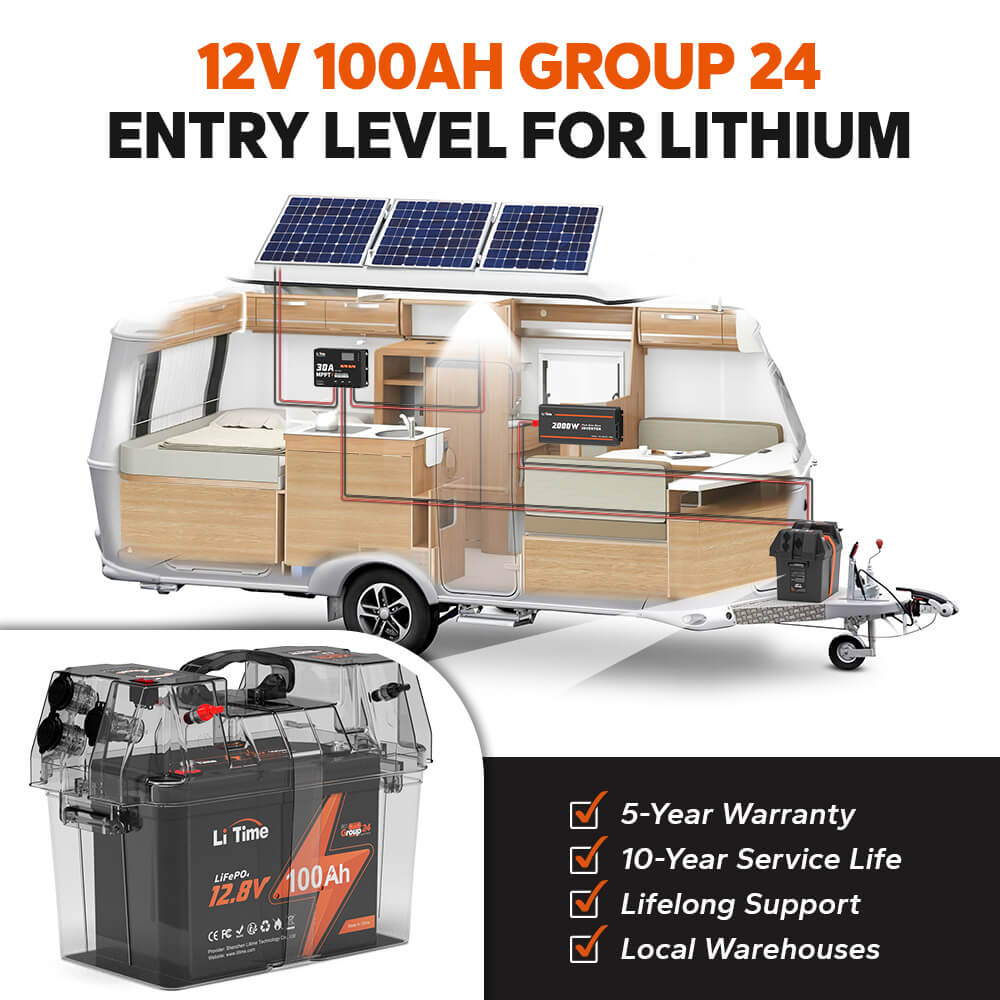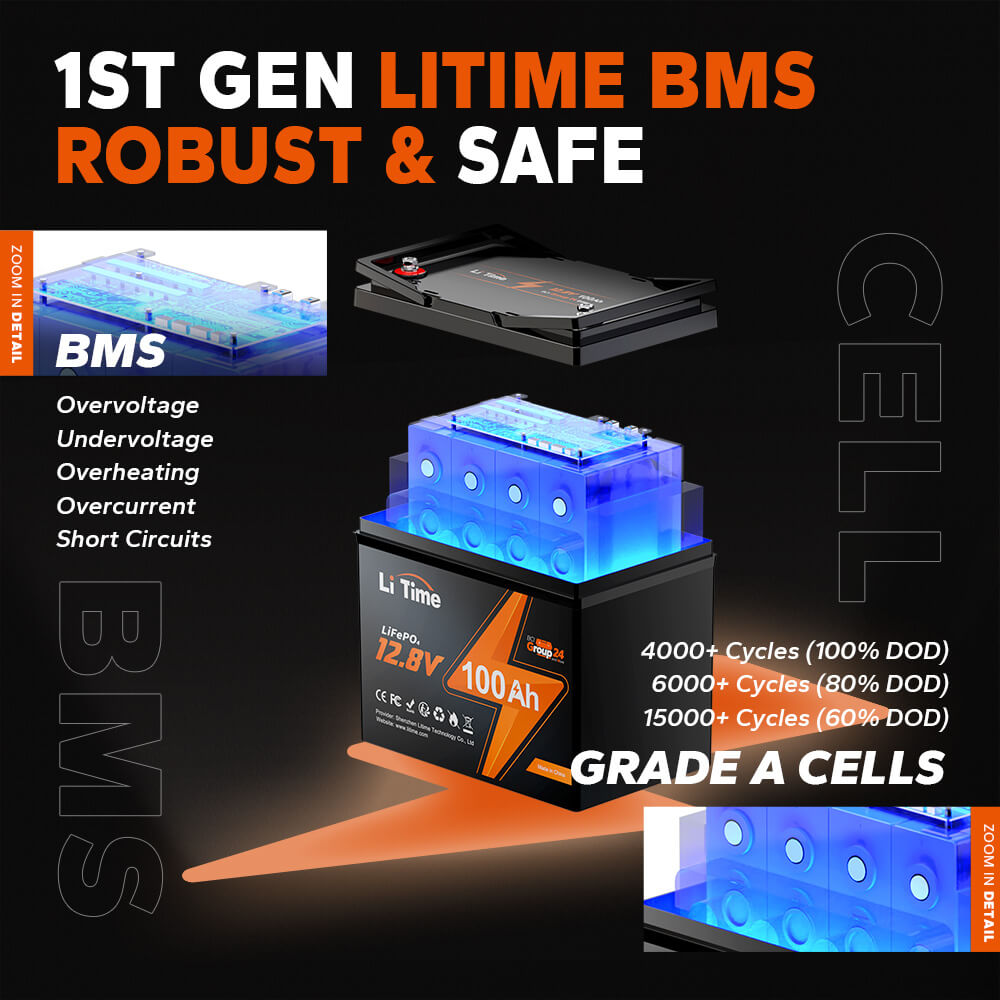 LiTime 12V 100Ah Group 24 LiFePO4 Lithium Battery, Built-In 100A BMS, 1280Wh Energy
【BCI Group 24 Size, Universal Fit】LiTime 12V 100Ah Group 24 lithium battery was built based on the most ubiquitous size of the BCI battery size standard "Group 24", allowing it to function effectively in a variety of vehicles and applications. It is globally compatible with the Group24 battery box and all types of vehicles on the market. It will not take up much installation space and is a simple drop-in replacement for Group24 AGM, requiring no additional operation or intricate wiring.
【1/3 Lighter, 8X Higher Energy Density】The LiTime 12V 100Ah Group 24 LiFePO4 battery has 41% more VED (Volumetric Energy Density) yet only 75% the volume of the LiTime 12V 100Ah Group 31 battery. It is also 1/3 lighter than a Group24 AGM battery, has an 8X MED (Mass Energy Density), and produces 100% energy (1280Wh). (The AGM Group24 AGM battery's standard in 50% DOD is just 70Ah capacity with 420Wh useable output.)
【1.28kWh, Expandable to 20.48kWh】Flexible and expandable from 1.28kWh to Max. 20.48kWh (16 identical 12V 100Ah Group 24 batteries wired in 4P4S), you can easily upgrade your battery system as needed. The power output ranges from 1.28kW to 20.48kW and can be used in a variety of appliances. It is not restricted to RV batteries, but also works well in home backup systems and off-grid living.
【Grade-A LFP Cells and Robust BMS 】LiTime insists on using Automotive quality LiFePO4 prismatic cells across its lithium battery portfolio, and the battery is protected from overcharging, over-discharging, overcurrent, overheating, and short-circuiting by a powerful BMS. These components enable consistent and dependable performance over the battery's 10-year service life.
【10-Year Service Life & 4000+ Cycles】Exquisite lithium battery technology enables the LiTime 12V 100Ah Group 24 LiFePO4 battery to work brilliantly during a 10-year service life, implying that this lithium battery has 4000+ cycles in 100% SOC (state of charge) and DOD (depth of discharge). You can get a worth trust 12V 100Ah 1.28kWh LiFePO4 battery in size of Group 24 that you desire from LiTime.
【Something You Should Know Before Purchasing】
This 12V 100Ah Group24 battery is suitable for energy storage rather than start-up and supports a max. discharge current of 1C. *RECOMMENDATION FOR TROLLING MOTOR:
LiTime's new 12V 100Ah TM battery
, is designed for use with all trolling motors.
Note: At 1C discharging rate, the 70Ah AGM Group24 battery's standard at 60% DOD is just 42Ah capacity with 504Wh usable energy output.
Please hurry! Only 84 left in stock
Limited-Time Offers, End in:
151

D
8

H
23

M
0

S
Free Shipping
Free standard shipping on all orders
Estimated to be delivered within 2-5 business days.
5 Years Warranty
Backed up by techical support within 24hrs.
Free Returns
30 Days Hassle Free Returns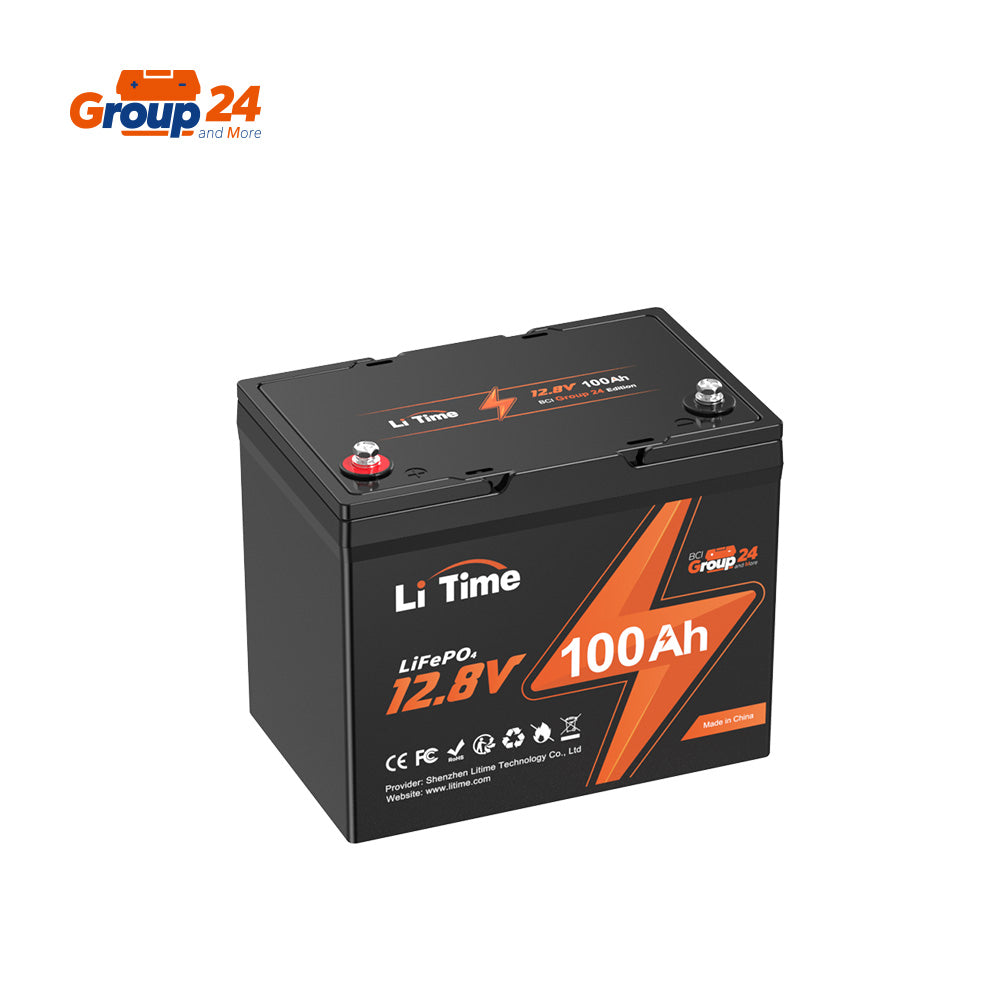 LiTime 12V 100Ah Group 24 LiFePO4 Lithium Battery, Built-In 100A BMS, 1280Wh Energy
Frequently Bought Together
SPECS
BATTERY
Cell Type:
LiFePO4 Prismatic
Cycle Life:
4000 cycles at 100% DOD, 6000 cycles at 80% DOD, 15,000 cycles at 60% DOD
Max. Expansion (Parallel & Series):
4P4S
Internal Resistance:
≤40mΩ
Certifications:
UL, FCC, CE, RoHS, UN38.3
BMS
Max. Continuous Output Power:
1280W
Max. Continuous Charge Current:
100A
Max. Continuous Discharge Current:
100A
Max. Discharge Current 5 Seconds:
280A
CHARGE
Charge Voltage:
14.4V ± 0.2V
Recommend Charge Current:
20A (0.2C)
TEMPERATURE
Charge Temperature:
0℃ to 50℃ / 32℉ to 122℉
Discharge Temperature:
-20℃ to 60℃ / -4℉ to 140℉
Storage Temperature:
-10℃ to 50℃ / 14℉ to 122℉
Low-Temperature Protection:
N/A
Low-Temperature Charging Protection Auto Recovery:
N/A
SELF-HEATING
Approx. Heating Time:
N/A
OTHERS
Size:
L10.23*W6.61*H8.22 inch
Housing Material:
ABS (Flame Retardant Plastic)
REVIEWS
Li time customer service
When I bought the 12.v 100ah with low temp charging, I thought it also came with Bluetooth, I was g owing to send it back, after talking with customer service I decided to keep it. I am not a pro or semi pro. Irish when the mood strikes me. Also I only fish for 4-6 hours and use the trolling motor about have that time.
So it easy for me to go three to four days till I recharge. Beside it's winter here in Michigan.
First Use
Got my new battery last week in time for my next remote radio trip. The battery charge to 100% in 5 hours. I went remote 2 days later and the battery was still at 100% charge. Going out to my radio site, so much nicer to carry this new 100ah Li Times 100ah LiFePo4 battery. I worked for about 4 hours with what seemed like very little drop. Love the new battery so far.
I do want to get a case for my battery though.
Sweet
Sweet I wish I could have waited for the heated ones to come back in stock but these will do nicely.