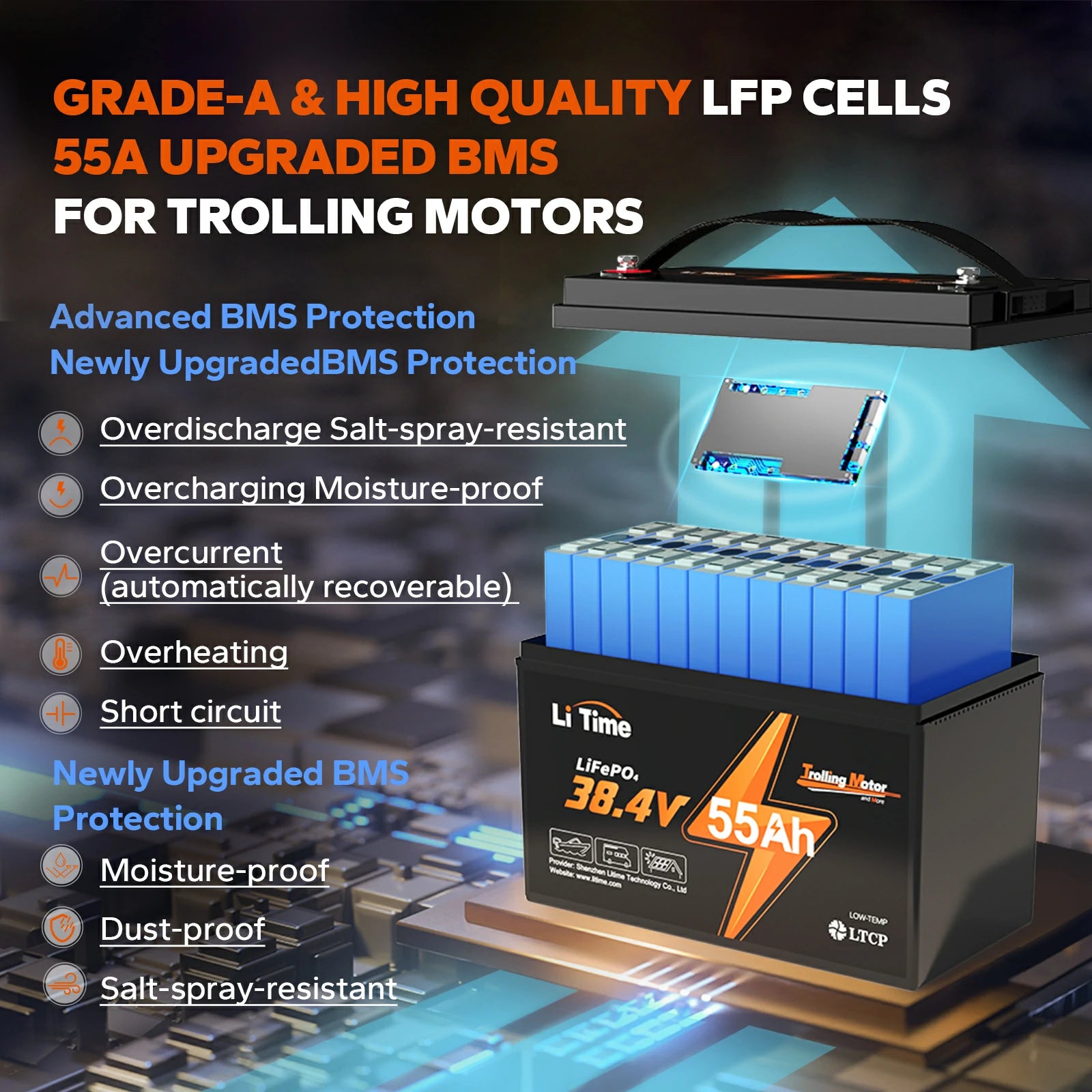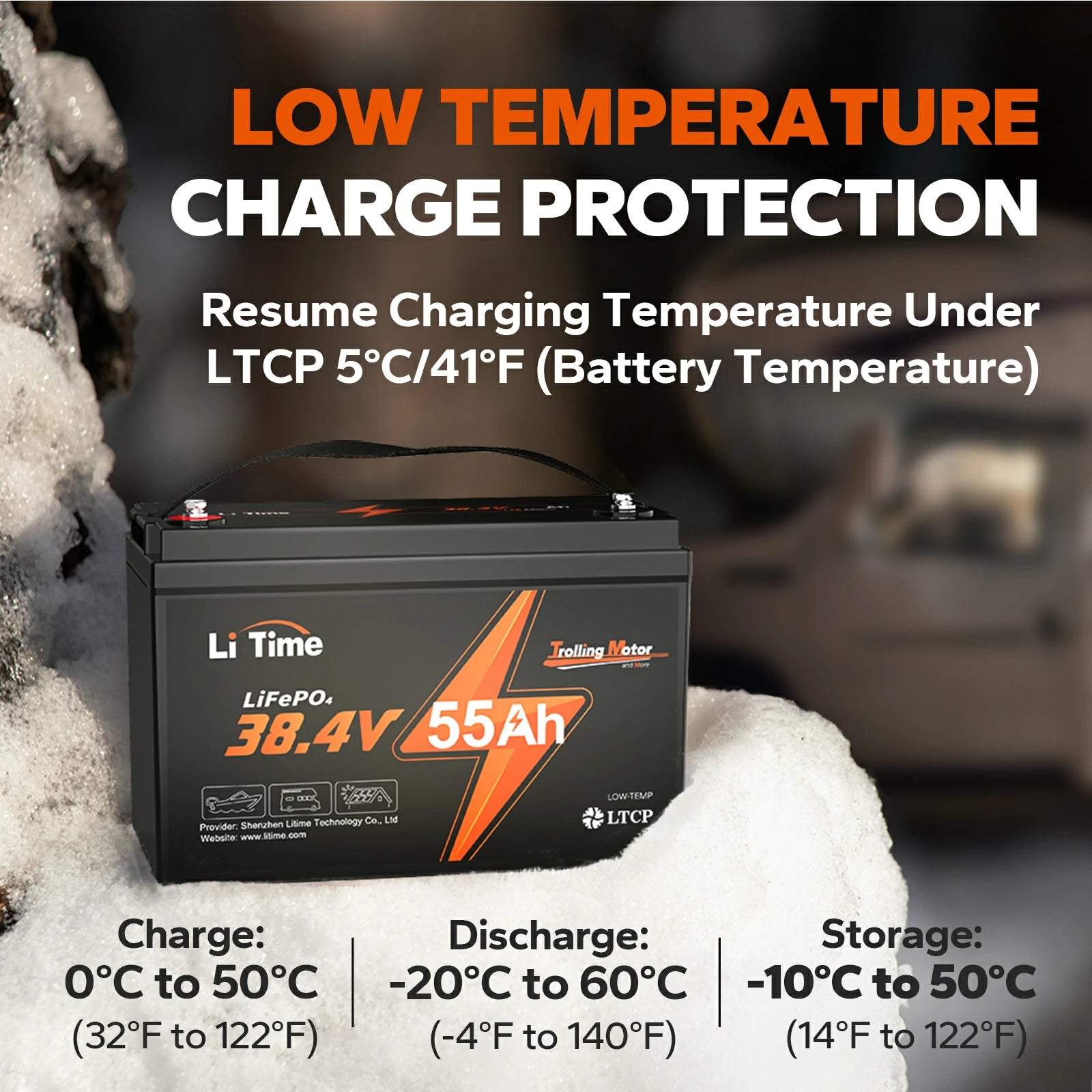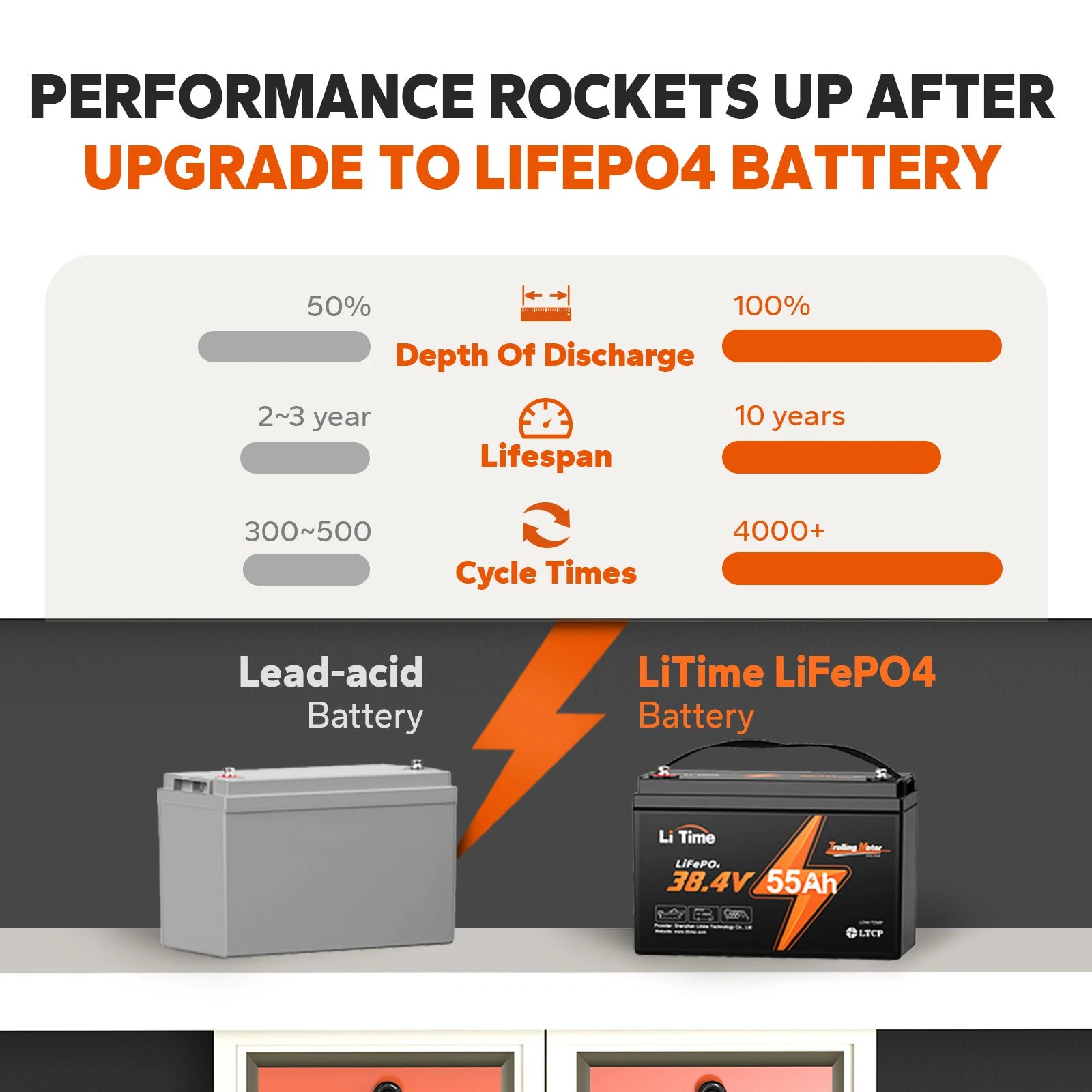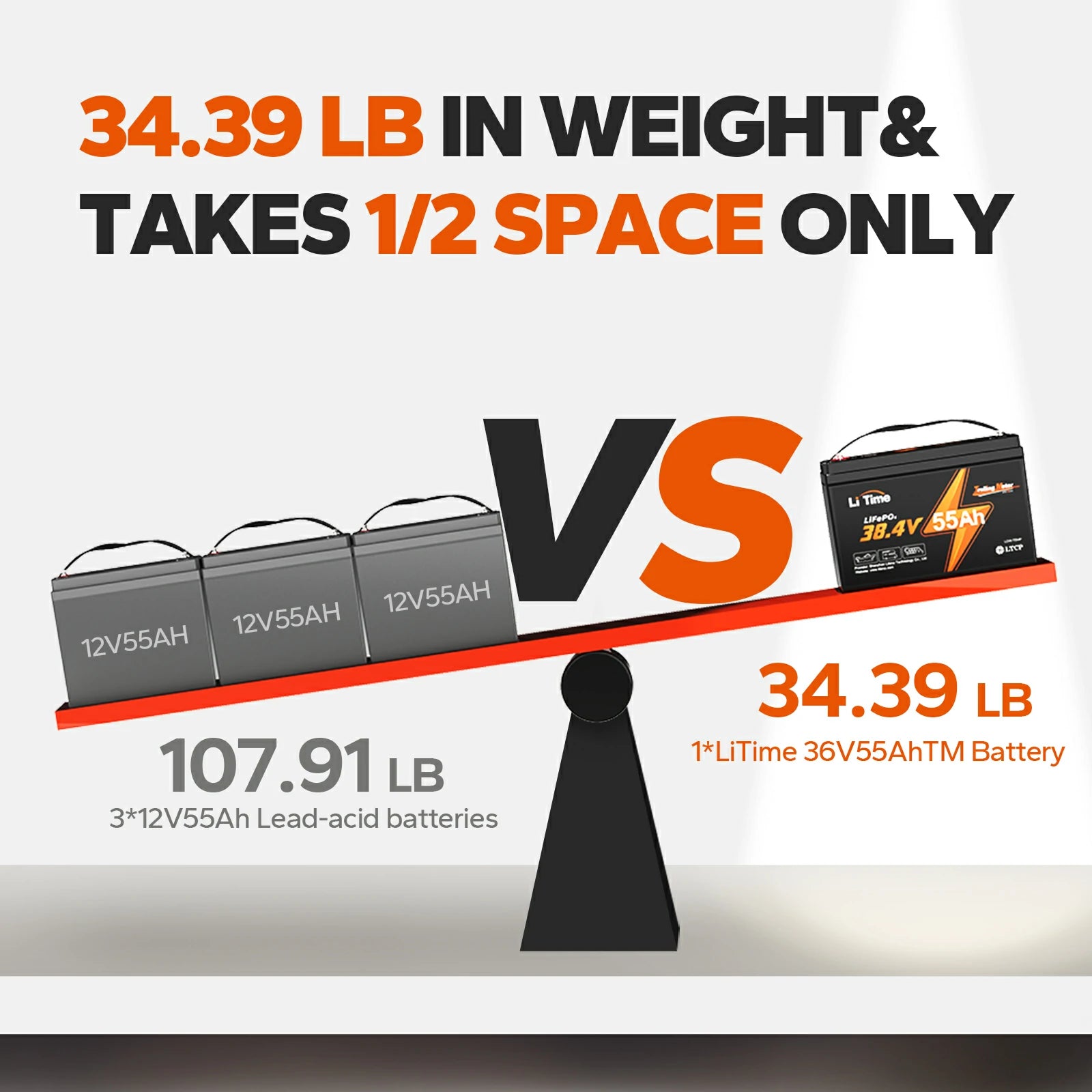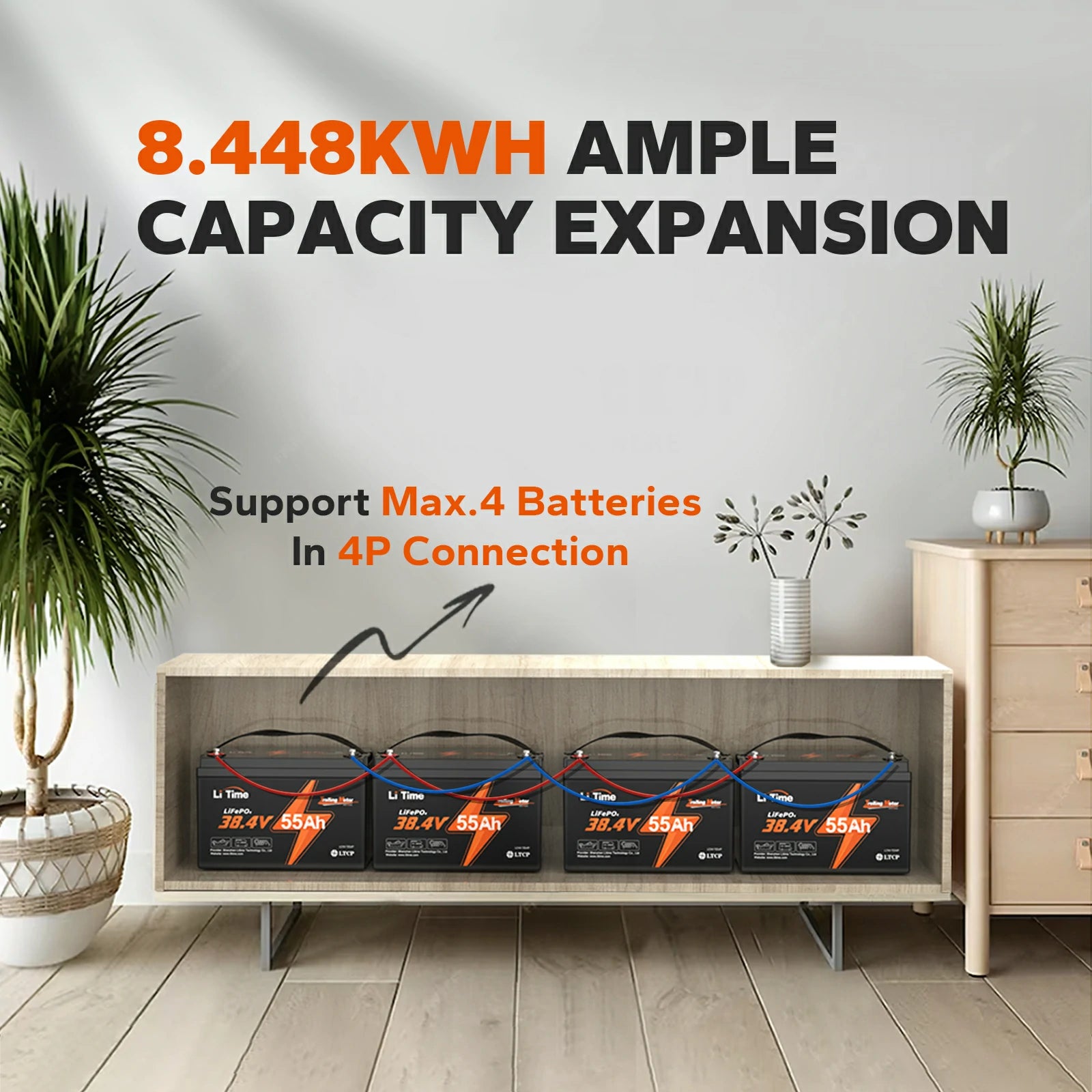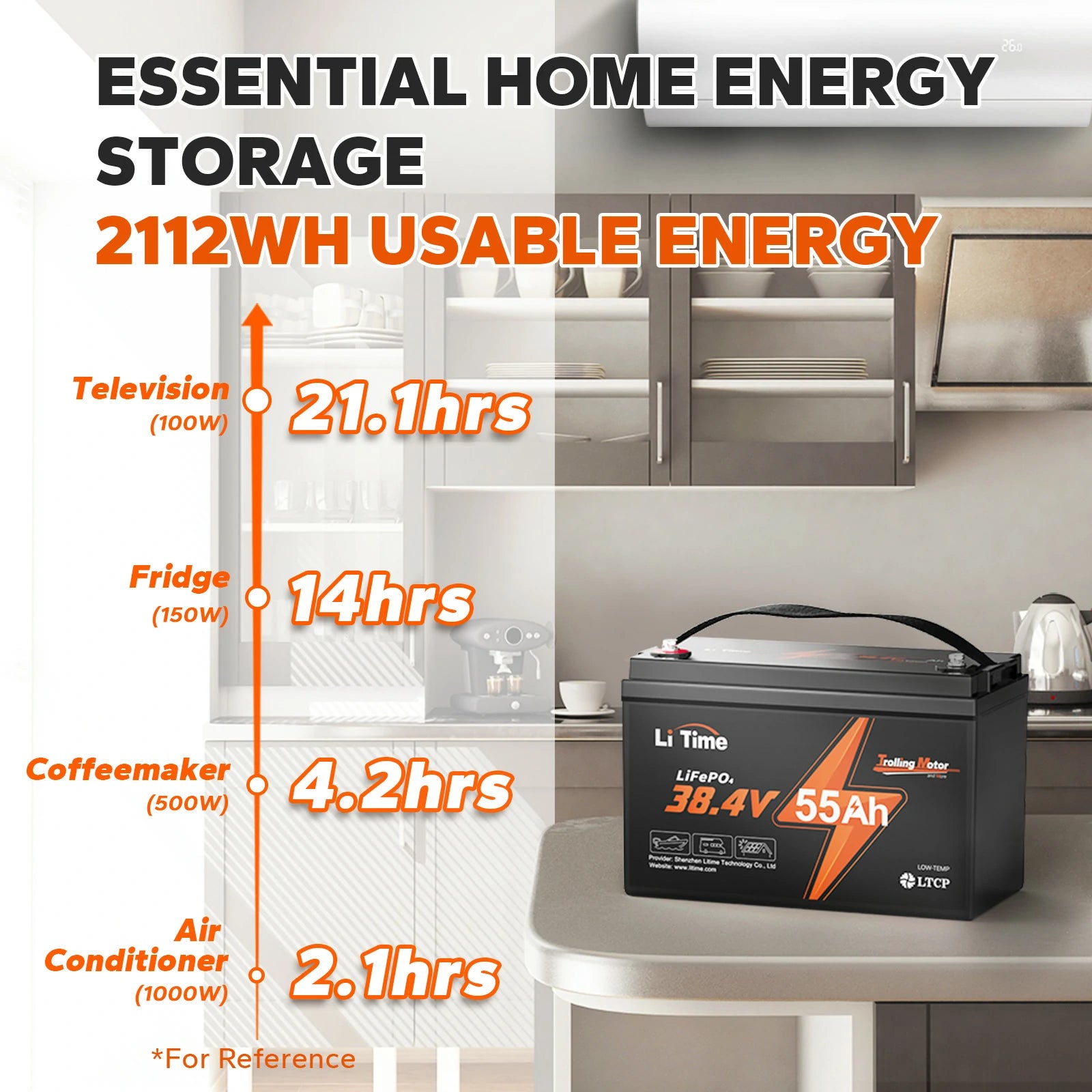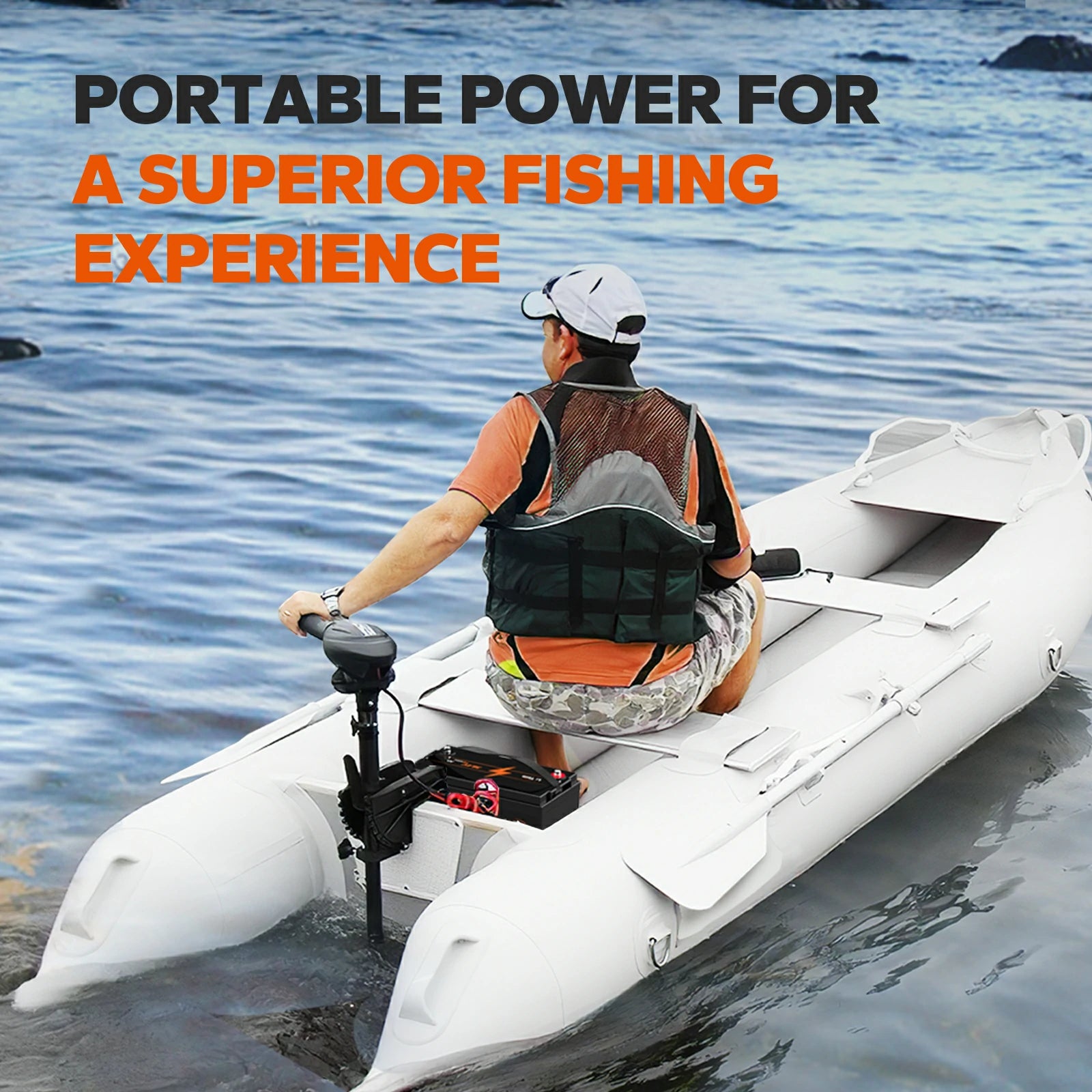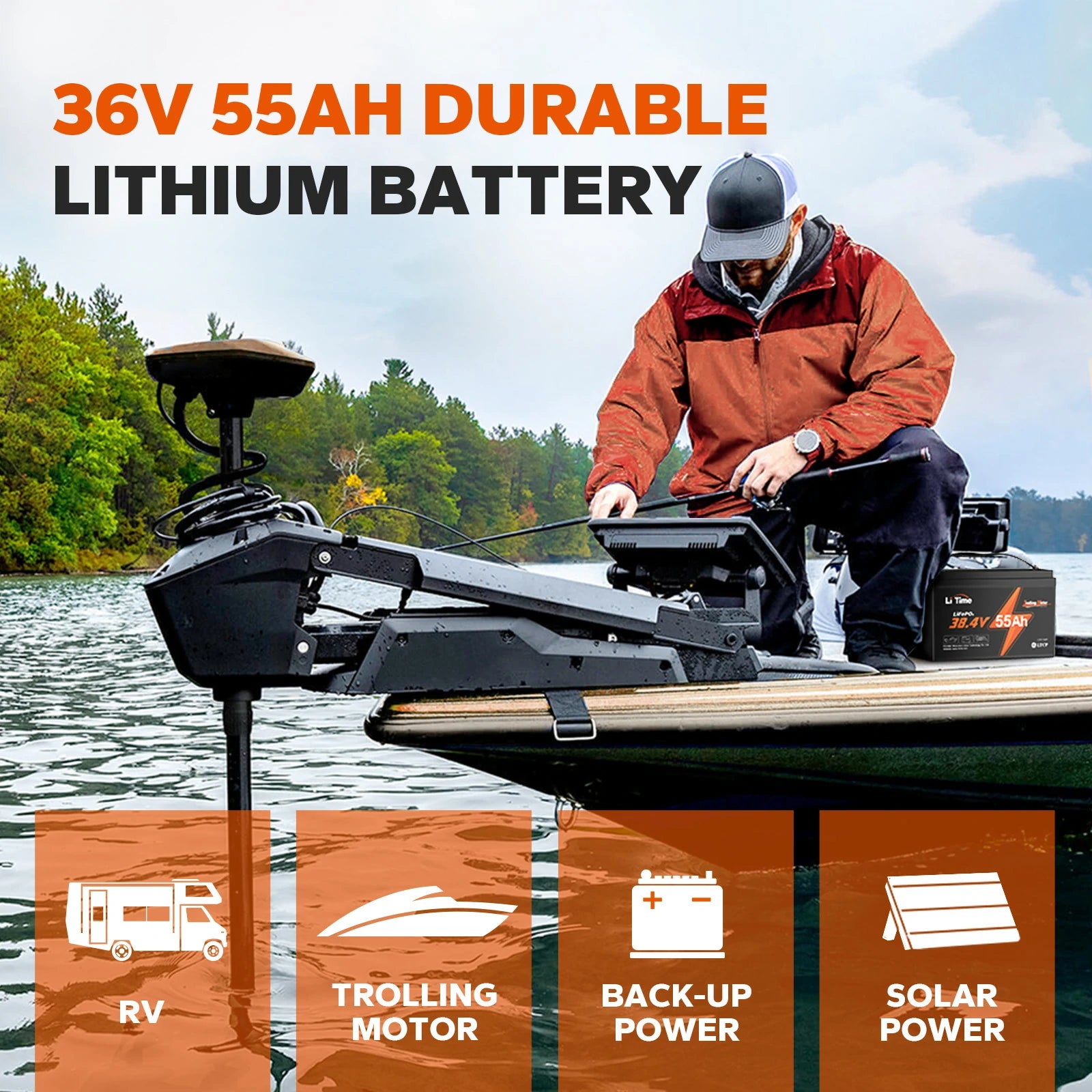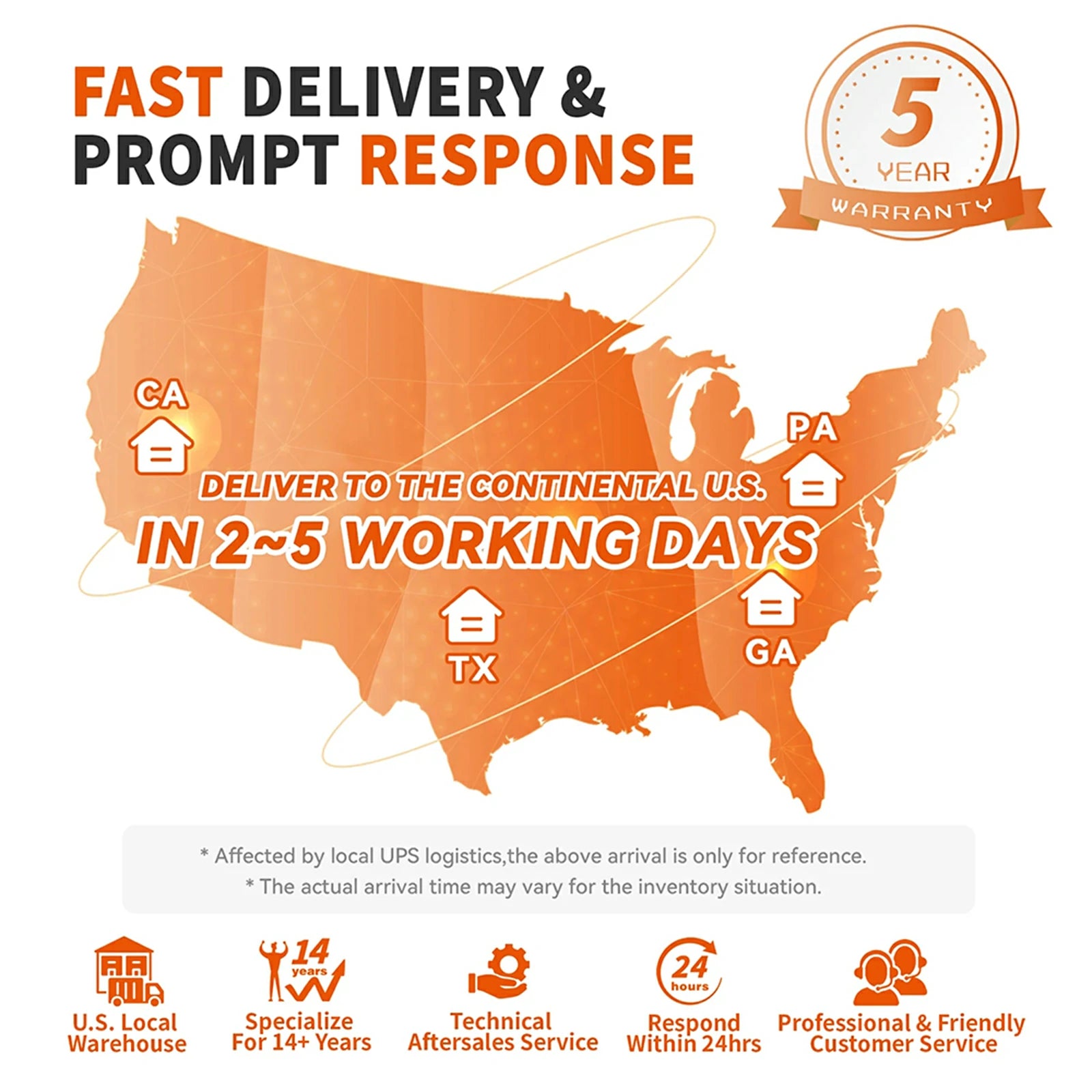 LiTime 36V 55Ah TM LiFePO4 Battery, Low-Temp Protection For Trolling Motors
【Low Temperature Protection】LiTime 36V 55Ah battery maximizes your battery life and charging efficiency with the low-temperature charging cutoff protection. It can charge above 32℉ and cut-off charging below 32℉. Keep safe and power up even in the coldest conditions. 【Upgraded 55A BMS & Grade A Cells 】LiTime 36V 55Ah TM LiFePO4 Lithium Batteries have exceptional quality with 12 Automotive Grade LiFePO4 Cells. The built-in 55A BMS, specially designed for trolling motors to protect them from humidity and salt spray, has multiple protection (low temperature, high temperature, short circuit, overvoltage, overcurrent, and Undervoltage). 【Highest Energy Density】With the Max 1C discharge current, it is suitable for trolling motors under 120 lbs thrust. LiTime 36V 55Ah battery is lighter and more powerful than similar Lead Acid batteries. It has an energy density of 61.41 Wh/lb (2112Wh/34.39 lb = 61.41Wh/lb), 185% higher than similar Lead Acid batteries. 【Max. 8.448kWh Energy Expansion】LiTime 36V 55Ah battery supports up to 4 parallel batteries to build a 36V 220Ah battery system ( Max. 8.448kWh energy & Max. 8.448kW load power). Ideal for applications such as trolling motors, home energy storage, solar power systems, caravans, and outdoor activities. 【100% Efficiency & Long Service Life】LiTime LiFePO4 battery is designed to deliver efficient and sustainable power for your needs with a flat discharge curve that provides 100% capacity usage, low self-discharge rate and low-capacity loss. It provides over 4000+ cycles & a 10-year lifetime compared to 200-500 cycles & a 3-year lifetime lead-acid battery. 【Cautions & Outstanding Service】The 36V 55Ah TM battery is suitable for energy storage, but not for starting and golf carts. Professional technical support, customer service, easy-to-understand operation manuals, phone support, and 24-hour quick online feedback are provided.
Please hurry! Only 19 left in stock
Free Shipping
Free standard shipping on all orders
Estimated to be delivered within 2-5 business days.
5 Years Warranty
Backed up by techical support within 24hrs.
Free Returns
30 Days Hassle Free Returns
LiTime 36V 55Ah TM LiFePO4 Battery, Low-Temp Protection For Trolling Motors
Frequently Bought Together
SPECS
BATTERY
Cell Type:
LiFePO4 Prismatic
Cycle Life:
4000 cycles at 100% DOD, 6000 cycles at 80% DOD, 15,000 cycles at 60% DOD
Max. Expansion (Parallel & Series):
4P
Internal Resistance:
≤40mΩ
Certifications:
UL, FCC, CE, RoHS, UN38.3
BMS
Max. Continuous Output Power:
2112W
Max. Continuous Charge Current:
55A
Max. Continuous Discharge Current:
55A
Max. Discharge Current 5 Seconds:
200A
CHARGE
Charge Voltage:
43.2V±0.6V
Recommend Charge Current:
11A (0.2C)
TEMPERATURE
Charge Temperature:
0℃ to 50℃ / 32℉ to 122℉
Discharge Temperature:
-20℃ to 60℃ / -4℉ to 140℉
Storage Temperature:
-10℃ to 50℃ / 14℉ to 122℉
Low-Temperature Protection:
Yes (32℉/0℃)
Low-Temperature Charging Protection Auto Recovery:
Yes (41℉/5℃)
SELF-HEATING
Approx. Heating Time:
N/A
OTHERS
Weight Approx.:
34.39 lbs
Size:
L12.95*W6.77*H8.43 inch
Housing Material:
ABS (Flame Retardant Plastic)
REVIEWS
Excellent
5 star service and super fast shipping and excellent quality
Excellent
5 star service and super fast shipping and excellent quality