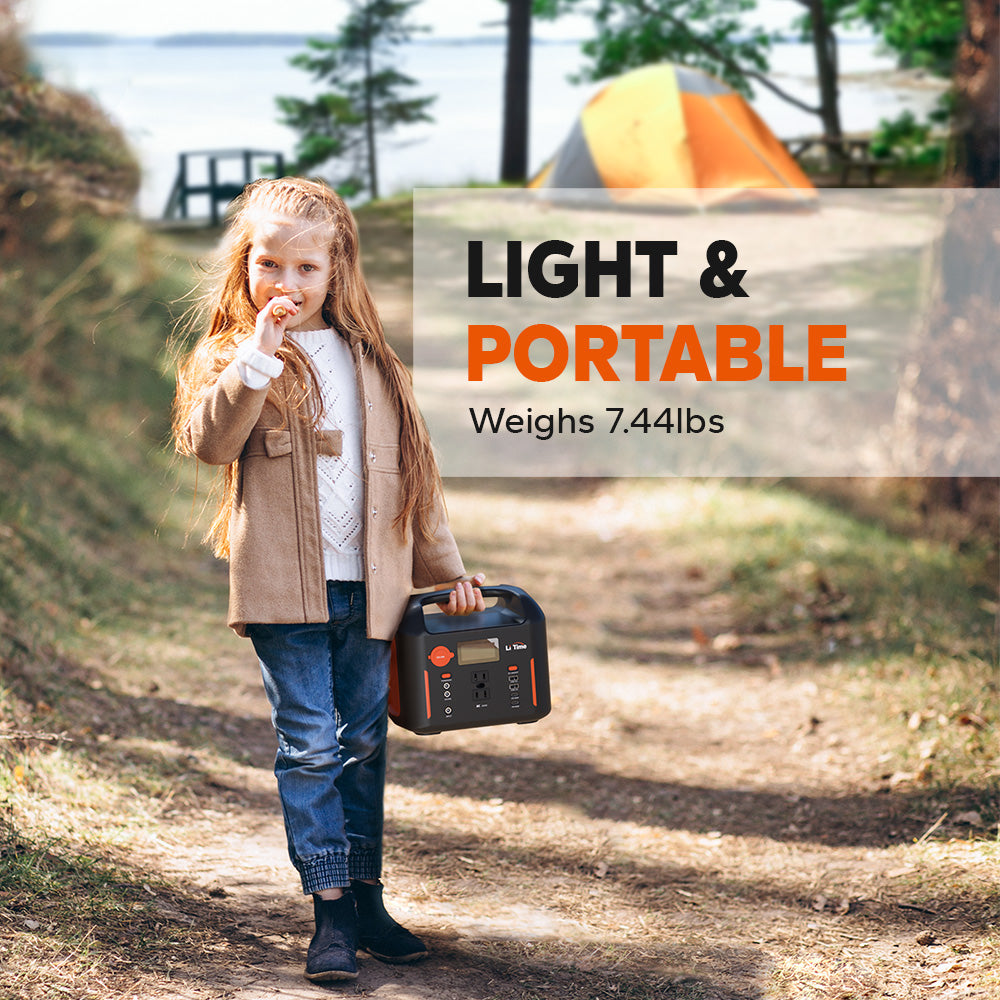 LiTime D320 Portable Power Station | 400W 320Wh
Please hurry! Only 4 left in stock
Limited-Time Offers, End in:
151

D
8

H
23

M
0

S
Free Shipping
Free standard shipping on all orders
Estimated to be delivered within 2-5 business days.
2 Years Warranty
Backed up by techical support within 24hrs.
Free Returns
30 Days Hassle Free Returns
Get ready for your outdoor camping or RV journey with LiTime's 320Wh portable power station, featuring 5 diversified output ports, 4 recharging methods, and a Grade-A LFP battery with 2000+ cycles lifespan.
Smart Choice for Sustainable Energy
5 Kinds of Ouput Ports
Experience the ultimate charging convenience with this 320W portable power station's 5 diversified output ports, capable of powering up to 9 devices at once with lightning-fast speed!
Easy Know Your Power
Stay in control of your power supply with ease - track the status of the 320W portable power station at a glance on the LCD display, and stay prepared for all your outdoor camping or RV adventures!
Ready for Emergency
Be prepared for any emergency with this 320W portable power station, featuring 4 versatile lighting modes - bright light, low light, SOS signal, and flashing - providing reliable lighting solutions when you need it the most!
Power Up Anytime, Anywhere
Never miss a beat with this 320W portable power station's lightning-fast recharge speed - from 0% to 80% in just 4.27 hours! It's easily rechargeable with multiple options, including the AC adapter, solar panel, 12V CIG port, or USB cable, so you can power up anytime, anywhere!
AC Adapter Recharging
Max. power input 60W, a 320Wh can be fast charged within 4.27hrs from 0% to 80% capacity.
10.8V-23.7V/3A, Max 60W
Handy little powerhouse
I just returned from a camping trip where I was totally off grid. The LiTme D320 performed perfectly for our needs. I used it to recharge handheld electronics and run a large fan and our TV.
I chose this solar charger because it is one of the few with a LiFePO4 battery. This gives me the confidence of less worry about fires and of course longer life. It also survived bouncing around on the trailer floor over a six mile dirt road. I recharged it using the cigarette lighter adapter on a larger solar generator that is plugged into a 200 watt solar panel.
My only small complaint is that it took me a while to figure out how to turn on the different output modes. On button turns it on, and others turn on the AC, but sometimes require more than one push. I probably wouldn't have had this problem if I had read the instructions, but being male, that wasn't an option. Also, I wish they had listed the mm size of the input plug in case I decide to get a direct solar panel cable.