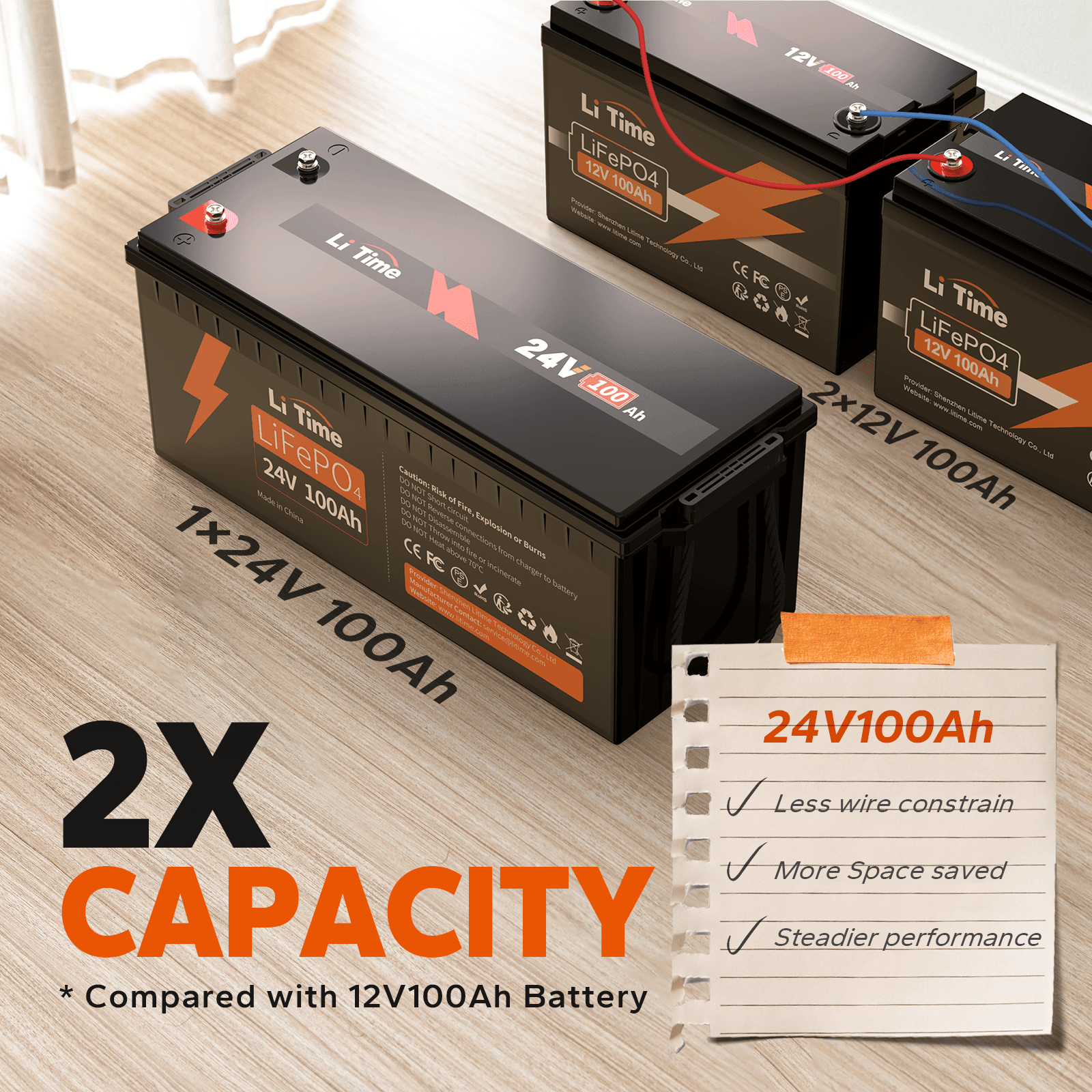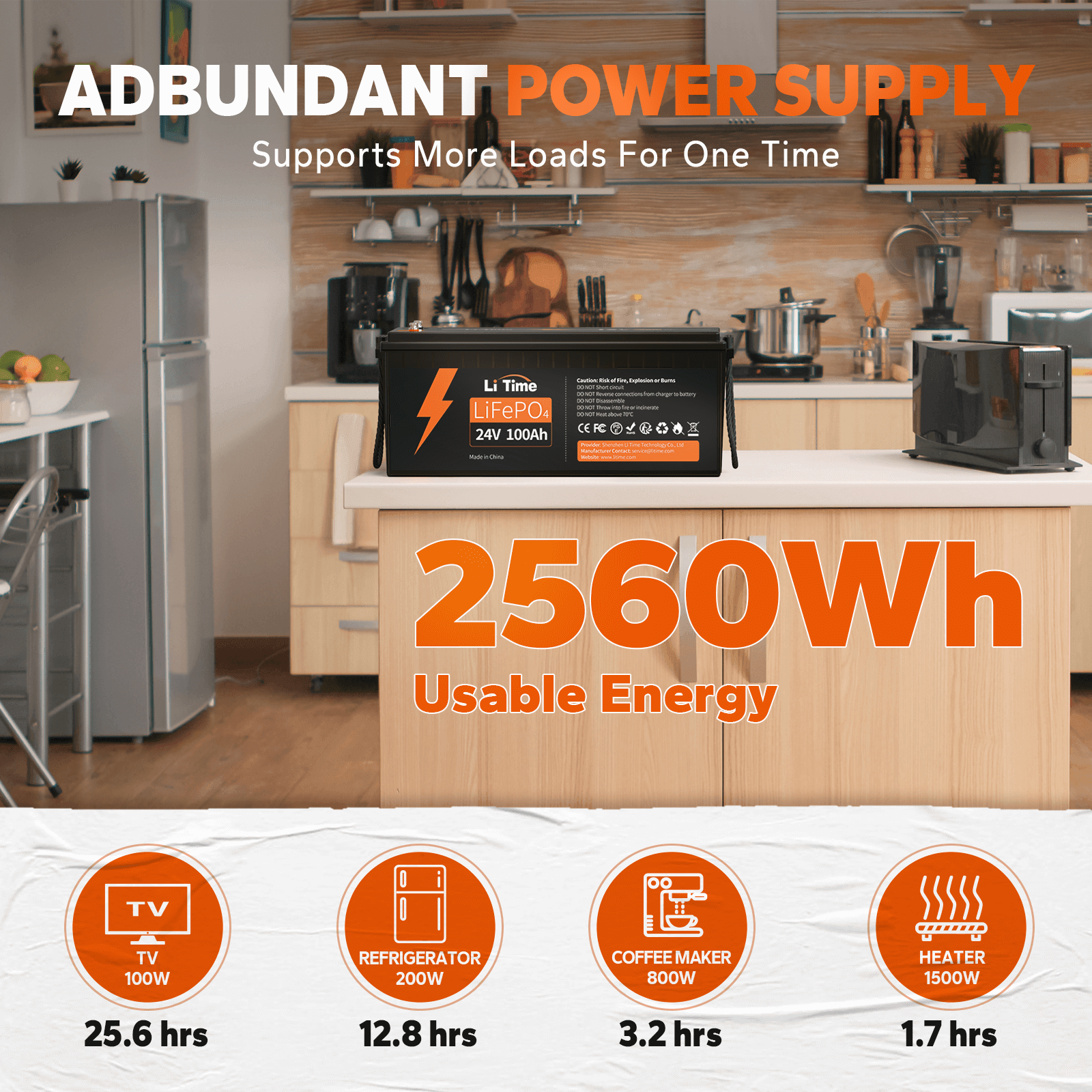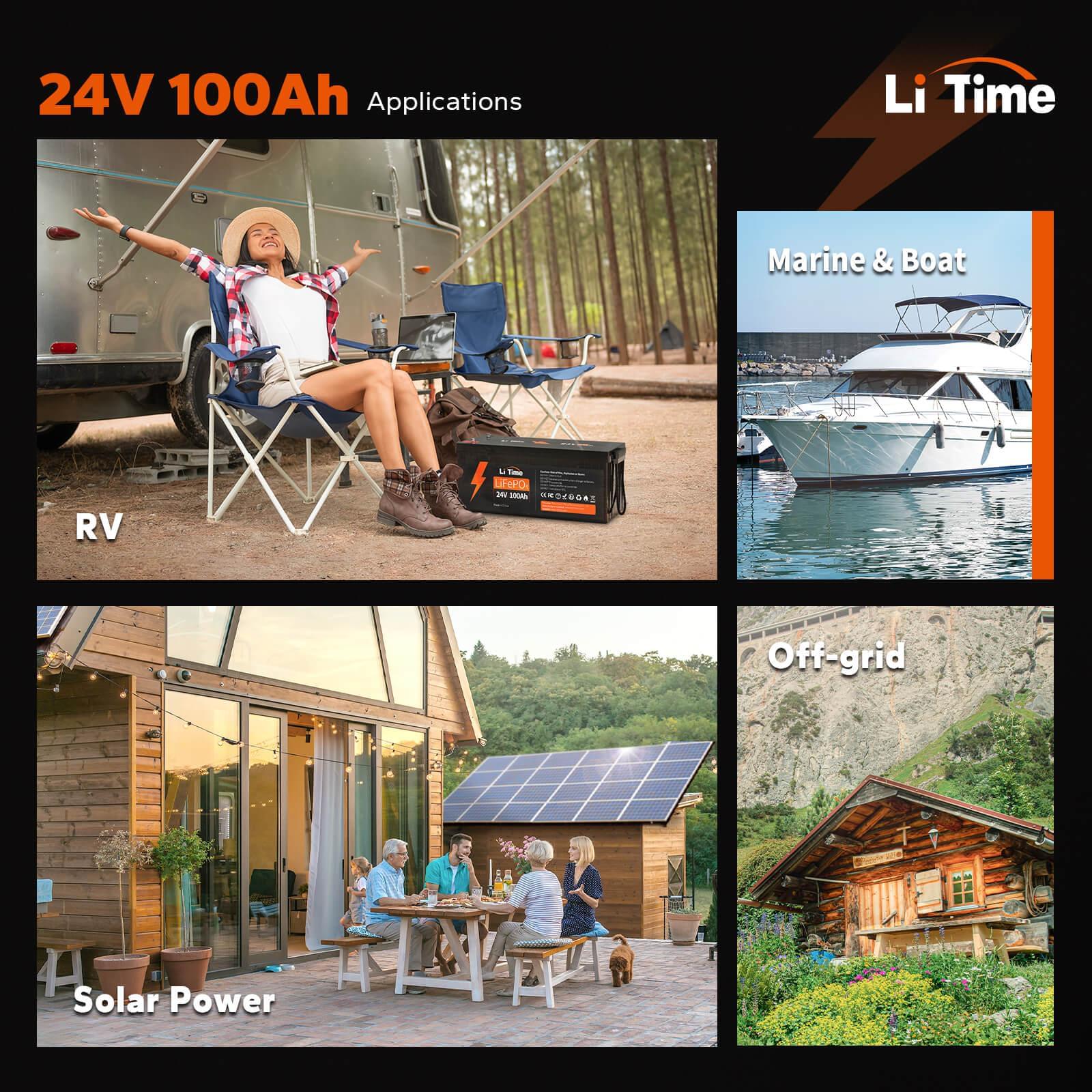 LiTime 24V 100Ah LiFePO4 Lithium Battery, Build-in 100A BMS, 2560Wh Energy
Availability:
12 In Stock
Please hurry! Only 12 left in stock
Free Shipping
Free standard shipping on all orders
Estimated to be delivered within 2-5 business days.
5 Years Warranty
Backed up by technical support within 24hrs.
Free Returns
30 Days Hassle Free Returns
LiTime 24V 100Ah LiFePO4 Lithium Battery, Build-in 100A BMS, 2560Wh Energy
Frequently Bought Together
DO NOT Use As A Starter Battery
The LiTime 24V 100Ah LiFePO4 battery is a deep cycle Energy Storage Battery. Please do not use the battery as a starting battery or power battery for electric vehicles or golf carts.
Series/Parallel Connection Premise
· The same type of battery (same Voltage, Capacity & BMS)
· The same brand
· Purchased within 3 months
· Supports up to 4P2S connection to build a 48V 400Ah system.
Installation Tips
· Install the battery upright with post bolts facing up or on its 2 smaller sides.
· DO NOT mount the battery upside down or laying down.
· Charge the battery between 32°F and 122°F
Two for one
Took two heavy 12 volts batteries out and installed a 24 volt in their place. Got almost 90 lbs out of the front of my boat thank you !
Great Battery
Added this battery to my system 24v system
Amazing service
I recently purchased the LiTime 24v 100Ah battery and changing unit. They arrived quicker than estimated delivery date, which was a pleasant surprise. Great looking battery and a snap to install. I read through the charging instructions and began the process of getting my battery up to full charge. The next morning I found the charger alternating between the "charging" and "full charge" modes. At no point did I read this in the charging manual/instructions, so I unplugged the charger and contacted LiTime customer service by email. Elaine from service immediately contacted me and we began our correspondence. She was extremely helpful, patient and quick to reply to all emails. Even if she didn't know the answer off hand, she made it a point to find it and send me everything she had found quickly. Together we worked through the
"problem ". I say it like that because I discovered this alternating is the normal charging process. The battery is working above expectations. I could not be more happy with every step of this purchase.
Great Customer Service
I bought a pair of these 24V 100ah to go with a pair of Ampere Time Batteries I bought a year ago. Was interested if they were as good as the Ampere Time batteries. I received the batteries in 3 days and undamaged.
I had a problem with one of the batteries charging correctly, so emailed Li Time Customer Service, and the next day received an email back from Elaine. After a couple of days of emails trying to figure out the problem Elaine said it looked like the battery would have to be shipped back. Elaine then offered to refund or replace. I choose to replace. They set me a packing label for FedEx, and I shipped the battery back. Once they received the battery they set me a new one. In all, it took between 2 and 3 weeks from the time I got the first battery till the time I received it's replacement.
My Off Grid Shop is up and running with plenty of power to spare. Thank you Elaine for all of your help. I will be adding a video of the Li Time Review soon.