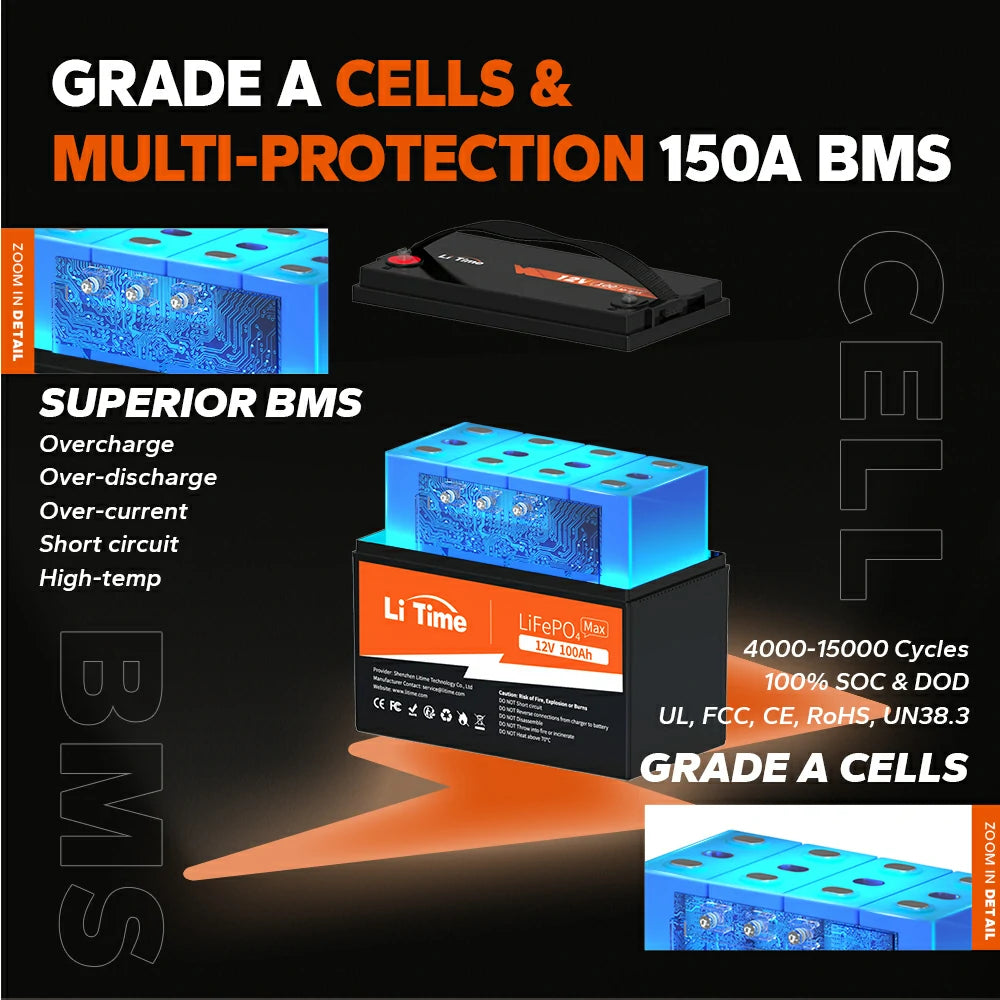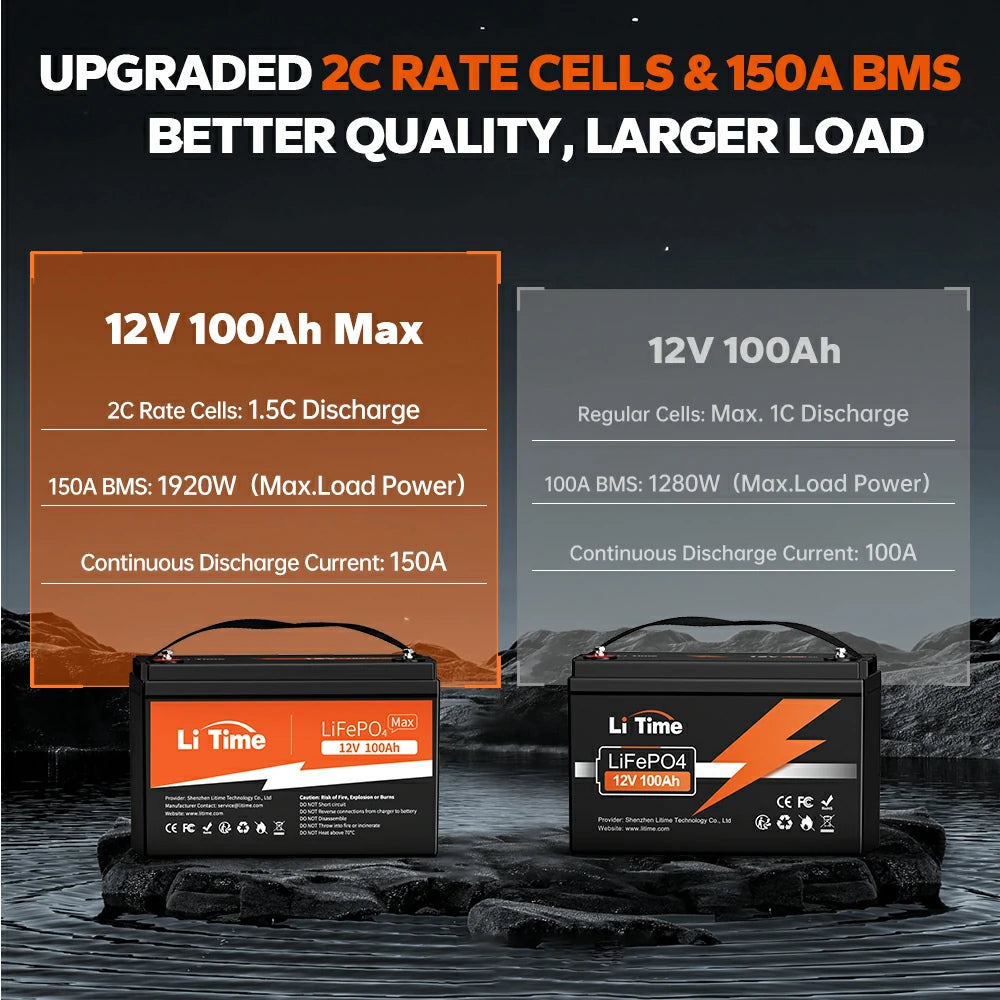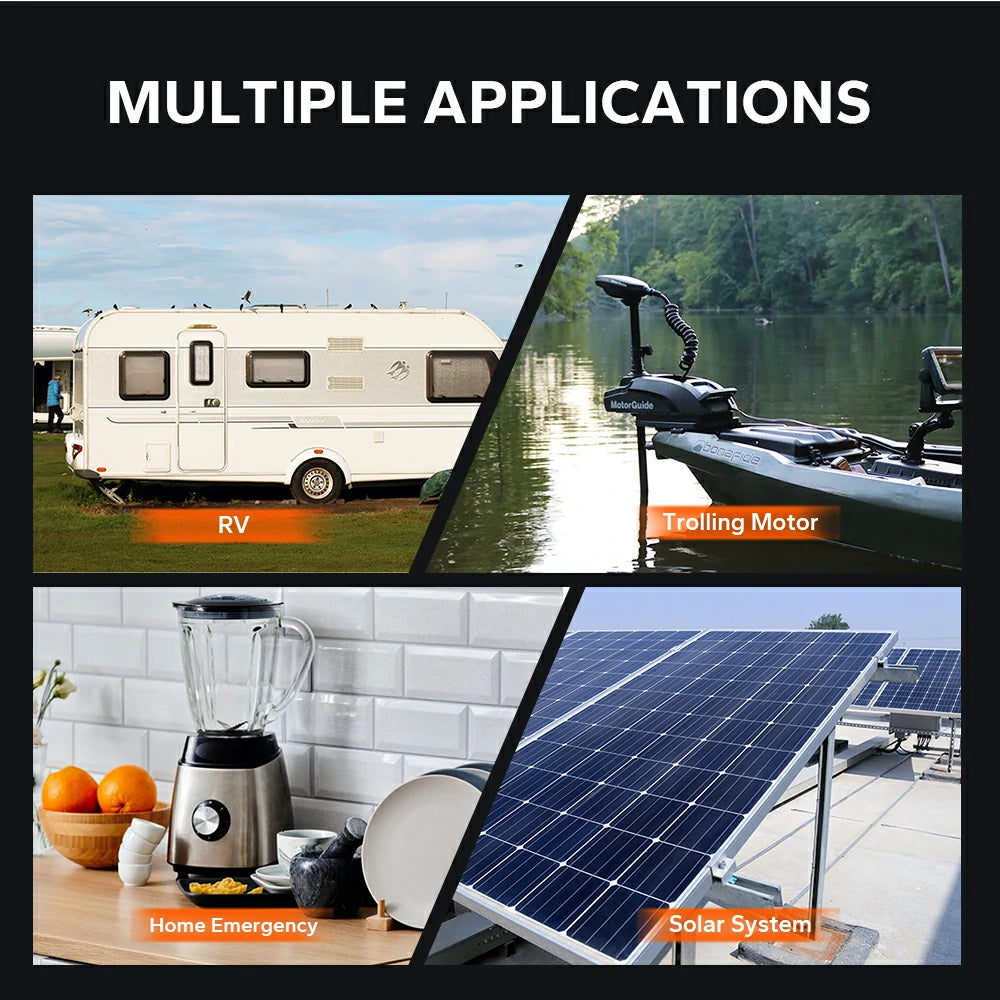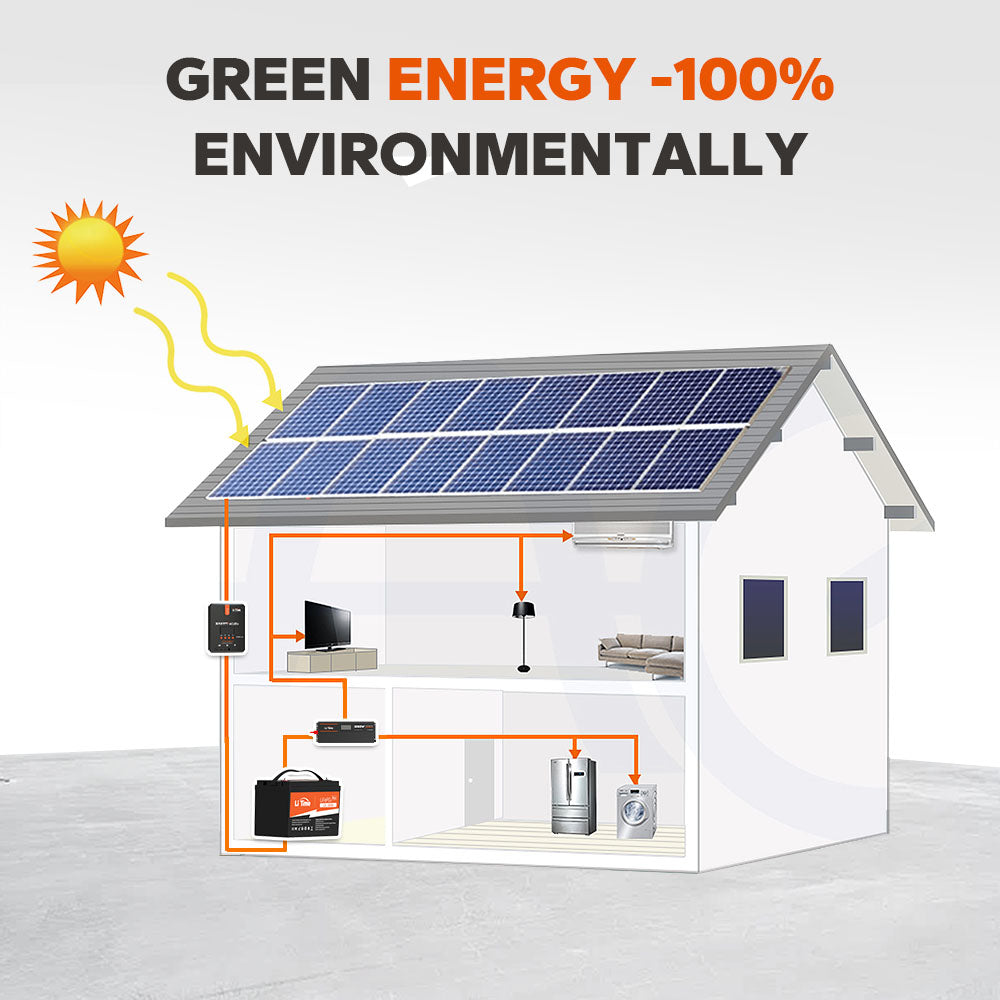 LiTime 12.8V 100Ah Max LiFePO4 Lithium Battery, Built-in 150A BMS, 1280Wh Energy, 1920W Load Power
【Larger load power &100% Protection】LiTime 12.8V 100Ah Max Lithium Battery has a built-in 150A BMS that can support a maximum load power of 1920 W. It is capable of running larger appliances compared to the 12.8V 100Ah battery that has a built-in 100A BMS. The battery management system (BMS) offers over-charging, over-discharging, over-current, over-temperature, and short-circuit protection, thereby ensuring the safety of the battery and the user.
【2C Rate Square Automotive Cells】Adopting 2C rate square cells, 12V 100Ah Max battery can support maximum 1.5C rate discharging and 1C rate charging. This enables it to be used in scenarios that require high currents. LiTime 12V 100Ah Max lithium battery is made of automotive grade A cells, which have higher energy density, more stable performance, and lower self-discharge rate and make LiTime the preferred choice of our clients.
【Suitable for Power-based Scenarios】The 12V 100Ah Max LiFePO4 battery can support a 1920W load with 1280Wh capacity, making it well-suited for power-based scenarios. For RV, home emergency storage, and other scenarios where current demand is high and capacity demand is not high, just one 12V 100Ah Max Lithium battery can meet the requirements, eliminating the need to buy an extra 12V 100Ah battery to increase the current and load power, thus saving money.
【Max. 20.48kWh Energy Expansion】LiTime 12.8V 100Ah Max batteries support up to 4 in parallel and 4 in series (Max 4P4S) to form a 51.2V 400Ah battery system, with Max. 20.48kWh energy, Max. 30.72kW load power. Such highly efficient energy expansion system has a wide range of applications, including home storage systems, off-grid systems, RVs, trailers, and outdoor activities. Much more flexible to to design and create your own battery systems.
【Efficient Delivery & Dedicated Customer Service】We will ensure speedy delivery within 2-7 business days by shipping your order to the specified address based on stock availability. Our dedication is to offer customer service that is both professional and friendly. Our team of customer service representatives is always prepared to help you. If you have any inquiries or worries, do not hesitate to reach out to us. We promise to respond promptly within a period of 24 hours.
【Long Life & Environmentally Friendly】LiTime Lithium Iron Phosphate battery can be recycled 4000+ times and has a life span of up to 10 years. Additionally, the LiFePO4 battery does not contain any heavy metals or rare metals, resulting in improved environmental performance. Due to its long service life and eco-friendly nature, the LiFePO4 battery can completely replace the traditional lead-acid battery and can be utilized in a multitude of different situations.
Please hurry! Only 4 left in stock
Free Shipping
Free standard shipping on all orders
Estimated to be delivered within 2-5 business days.
5 Years Warranty
Backed up by techical support within 24hrs.
Free Returns
30 Days Hassle Free Returns
LiTime 12.8V 100Ah Max LiFePO4 Lithium Battery, Built-in 150A BMS, 1280Wh Energy, 1920W Load Power
Frequently Bought Together
SPECS
BATTERY
Cell Type:
LiFePO4 Prismatic
Cycle Life:
4000 cycles at 100% DOD, 6000 cycles at 80% DOD, 15,000 cycles at 60% DOD
Max. Expansion (Parallel & Series):
4P4S
Internal Resistance:
≤40mΩ
Certifications:
UL, FCC, CE, RoHS, UN38.3
BMS
Max. Continuous Output Power:
1920W
Max. Continuous Charge Current:
100A
Max. Continuous Discharge Current:
150A
Max. Discharge Current 5 Seconds:
600A
CHARGE
Charge Voltage:
14.4V ± 0.2V
Recommend Charge Current:
20A (0.2C)
TEMPERATURE
Charge Temperature:
0℃ to 50℃ / 32℉ to 122℉
Discharge Temperature:
-20℃ to 60℃ / -4℉ to 140℉
Storage Temperature:
-10℃ to 50℃ / 14℉ to 122℉
Low-Temperature Protection:
N/A
Low-Temperature Charging Protection Auto Recovery:
N/A
SELF-HEATING
Approx. Heating Time:
N/A
OTHERS
Size:
L13*W6.77*H8.43 inch
Housing Material:
ABS (Flame Retardant Plastic)