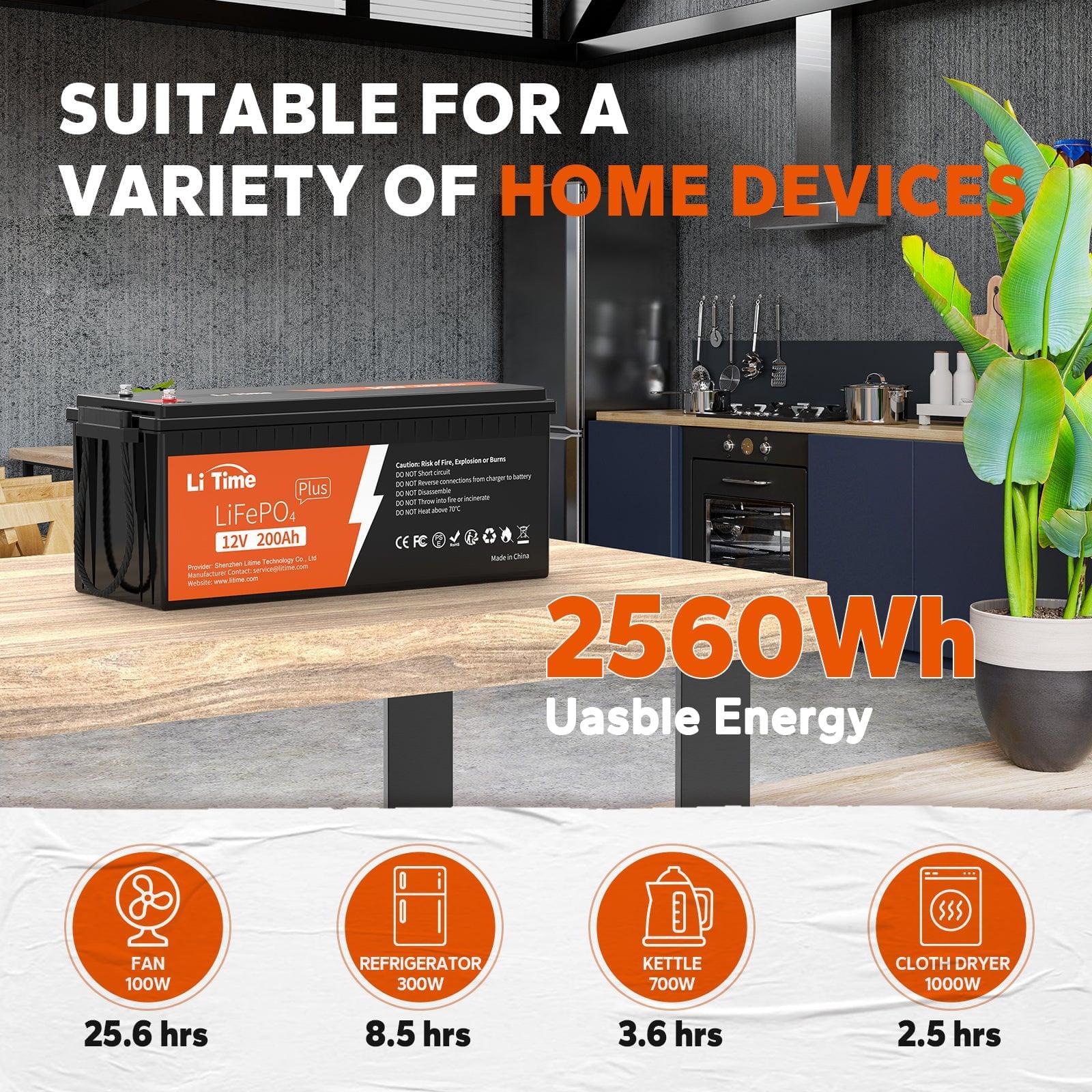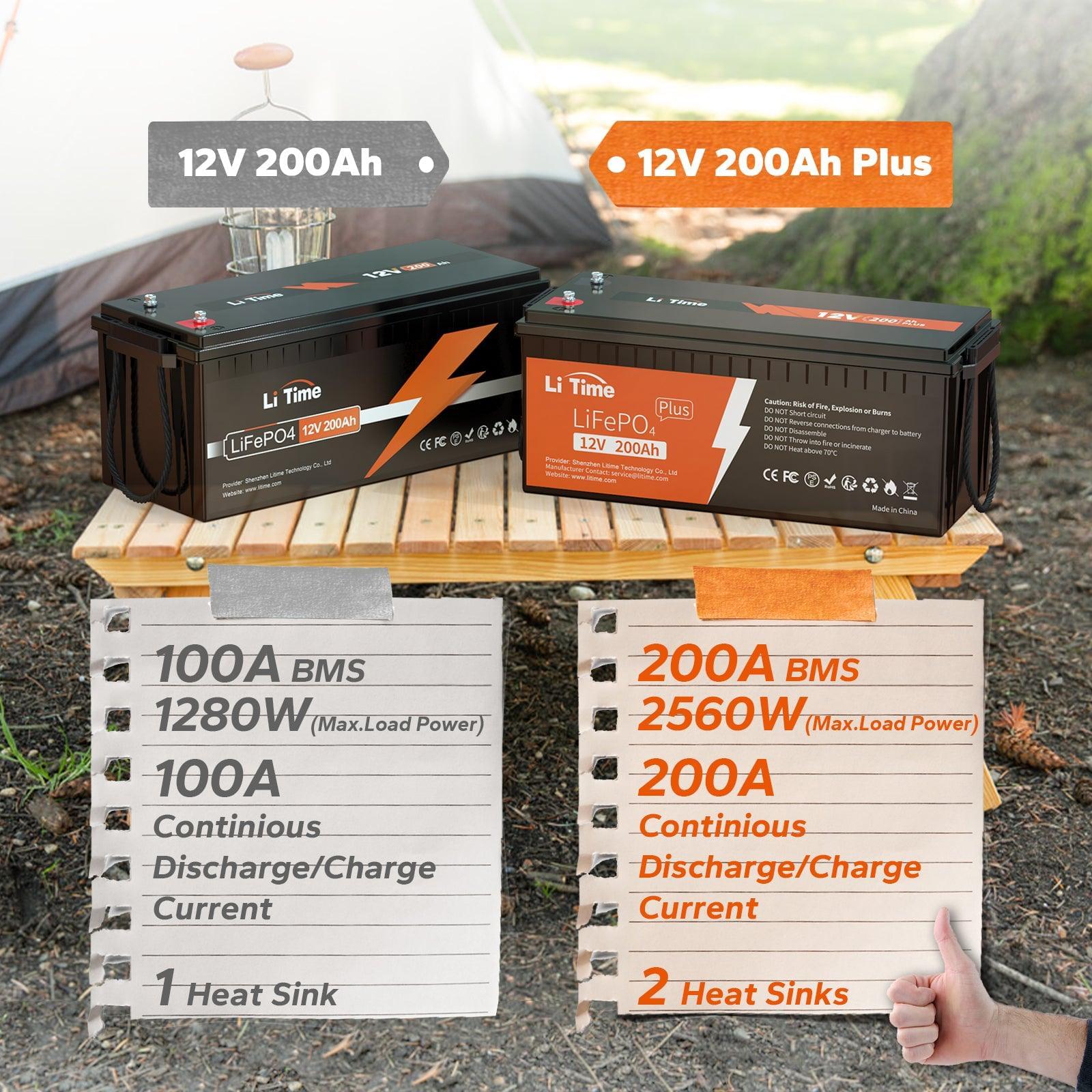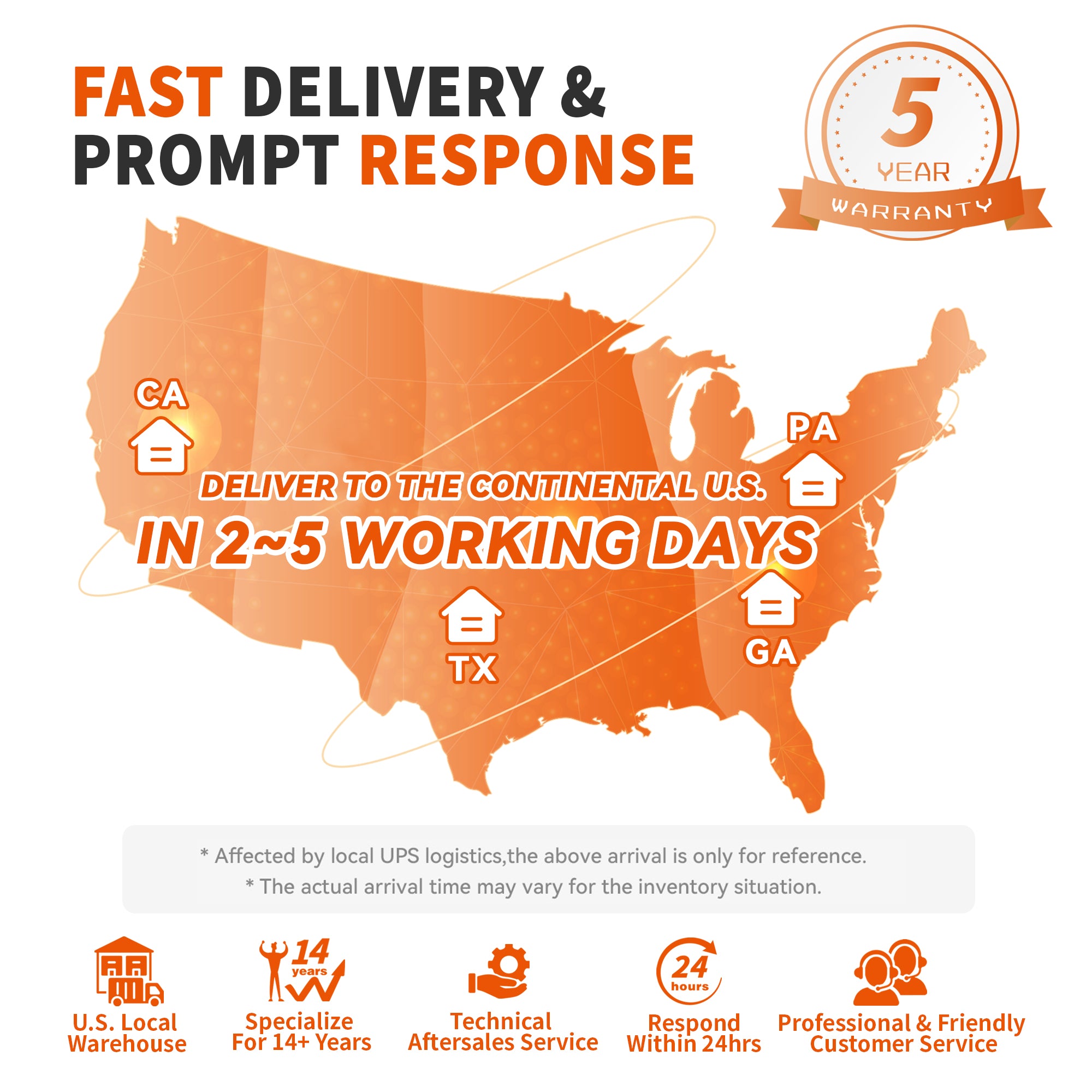 LiTime 12V 200Ah Plus LiFePO4 Lithium Battery, 200A BMS, 2560W Load Power
Availability:
43 In Stock
Please hurry! Only 43 left in stock
Limited-Time Offers, End in:
151

D
8

H
23

M
0

S
Free Shipping
Free standard shipping on all orders
Estimated to be delivered within 2-5 business days.
5 Years Warranty
Backed up by techical support within 24hrs.
Free Returns
30 Days Hassle Free Returns
LiTime 12V 200Ah Plus LiFePO4 Lithium Battery, 200A BMS, 2560W Load Power
Frequently Bought Together
Recommended Operating Temperature
Charging: 32°F ~ 122°F / 0°C ~ 50°C Discharging: -4°F ~ 140°F / -20°C ~ 60°C Storage: 14°F ~ 122°F / -10°C ~ 50°C
Battery Application
Do not use the battery as a starting battery or power battery for electric vehicles or golf carts.
It is suitable for the 12V Trolling Motor within 70lbs thrust.
Recommended Discharging Settings
Under Voltage Warning:11.6V
Under Voltage Recover:12V
Low Voltage Disconnect:10.8V
Low Voltage Reconnect:12.4V
Recommended Charging Settings
Charge/Bulk Voltage:14.4V/14.6V
Absorption Voltage:14.4V/14.6V
Over Voltage Disconnect:15V
Over Voltage Reconnect:14.2V
The batteries are very good
The batteries are very good and stronger than I had imagined. And your customer service is very nice and is currently replacing a mppt controller I had a small problem with. Overall very good business. I would buy more from you in the future.
From 100 to 200 aph
This is my 2 my set of batteries for my camper. I upgraded to 200aph and loved them both
Excellent
Received my battery on time and in good condition. They even sent me an extra set of post bolts to make up for the ones missing from my previous order! Topnotch!
Solved our battery problems
Original 200aH battery was too large to fit through window and worked with vendor to switch for 2x 100 ah batteries. Just needed to purchase some jumper wires to connect them. Probably not needed but I used the packing material the batteries came with to seat the batteries to reduce vibration on them while driving. From my research, just need to make sure we dont high current charge at super low temperatures - if I need to I will come up with a way to heat them up first.