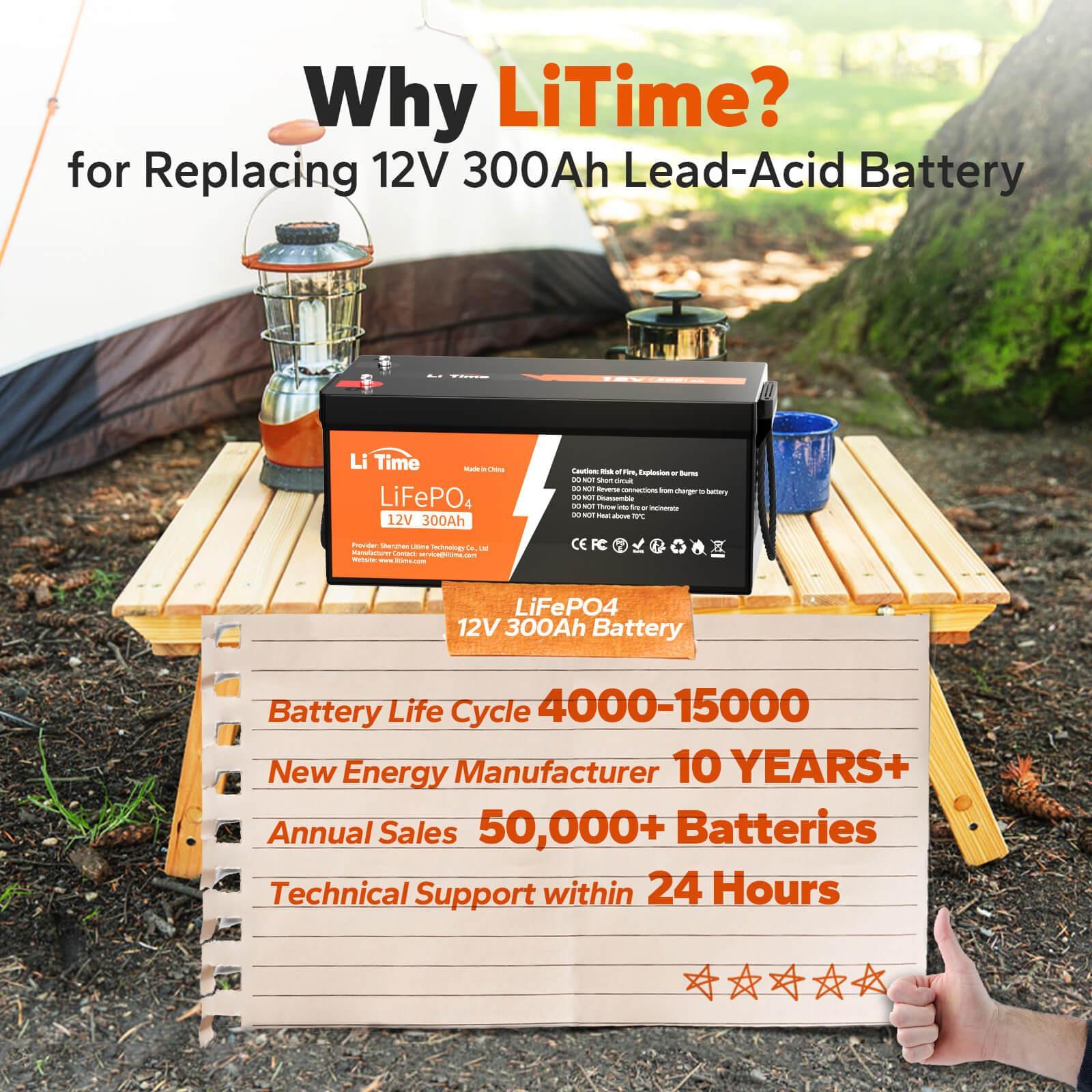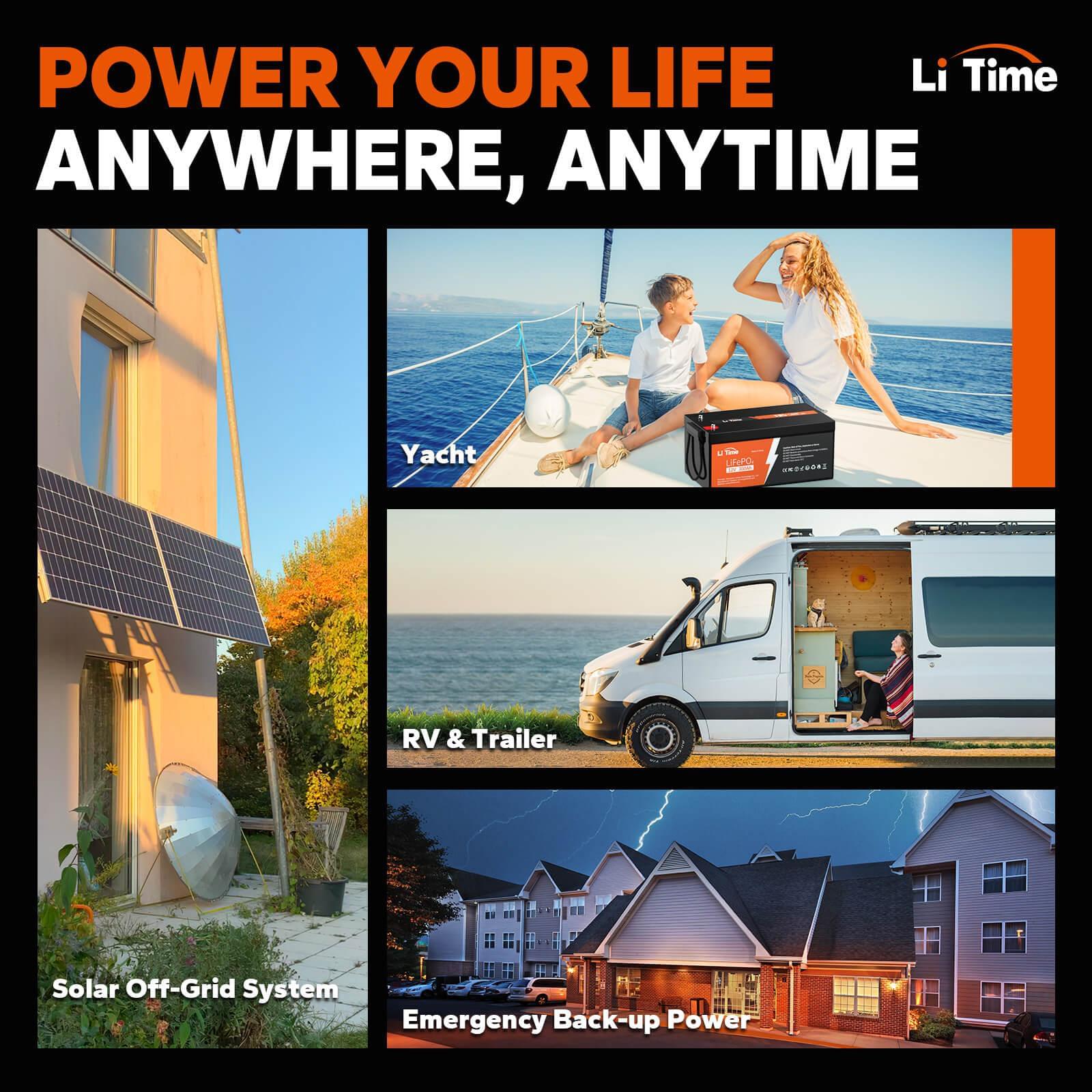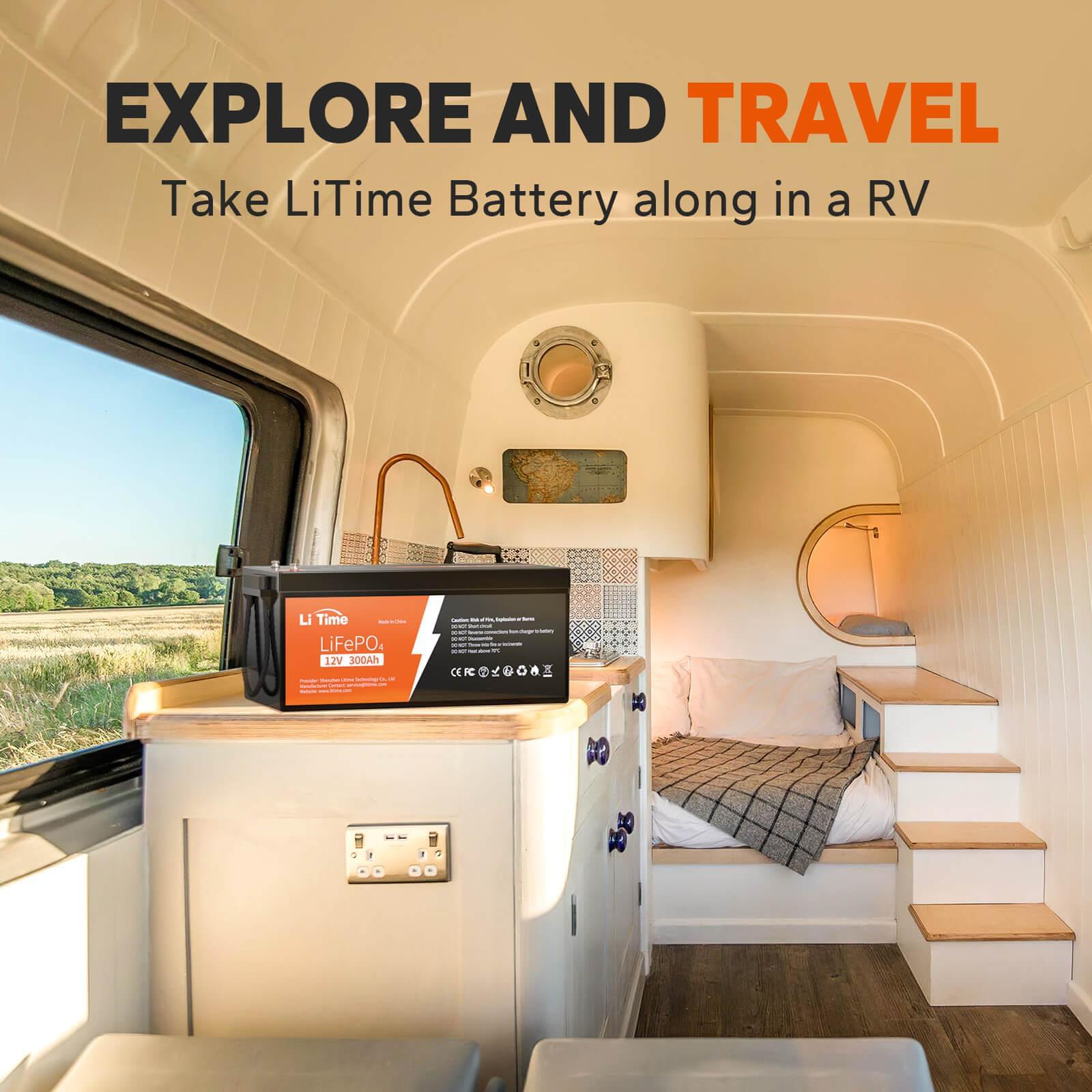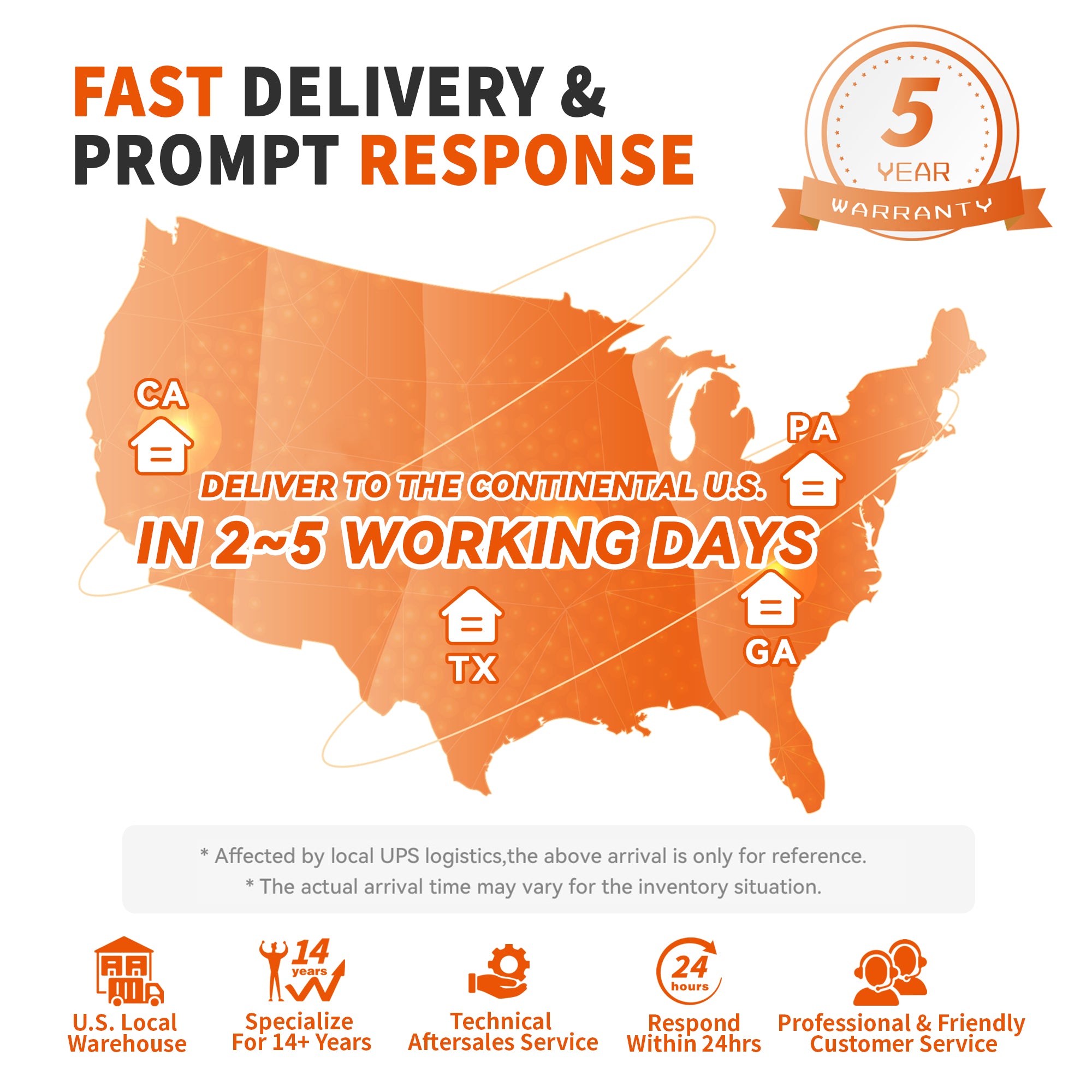 LiTime 12V 300Ah LiFePO4 Lithium Battery, Build-in 200A BMS, 3840Wh Energy
Availability:
25 In Stock
Please hurry! Only 25 left in stock
Limited-Time Offers, End in:
151

D
8

H
23

M
0

S
Free Shipping
Free standard shipping on all orders
Estimated to be delivered within 2-5 business days.
5 Years Warranty
Backed up by techical support within 24hrs.
Free Returns
30 Days Hassle Free Returns
LiTime 12V 300Ah LiFePO4 Lithium Battery, Build-in 200A BMS, 3840Wh Energy
Frequently Bought Together
DO NOT Use As A Starter Battery
The LiTime 12V 300Ah LiFePO4 battery is a deep cycle Energy Storage Battery. Please do not use the battery as a starting battery or power battery for electric vehicles or golf carts.
Series/Parallel Connection Premise
· The same type of battery (same Voltage, Capacity & BMS)
· The same brand
· Purchased within 3 months
Installation Tips
· Install the battery upright with post bolts facing up or on its 2 smaller sides.
· DO NOT mount the battery upside down or laying down.
· Charge the battery between 32°F and 122°F
Excellent customer service
I purchased my 3rd Ampere Time battery and so far the customer service has been impressive.
High Quality
Two 300 hundred amps 600 hundred total, very happy with the outcome.
I'm Happy With This Product
The battery arrived well packaged (picture 1) in just two days. It includes a product manual (picture 2), which I like, and a resealable bag to store the manual, which is very useful in my situation. The terminal hardware was clearly labeled and attached to the document bag (picture 3) so it didn't get lost in the packing. The battery is large because of its capacity, but it fit into my existing battery compartment with no problem (picture 4).
I chose a lithium-based battery, because these days they're actually less expensive than lead-acid batteries. Lithium batteries are also much lighter. This battery weighs 63 pounds, but it has roughly twice the usable capacity of my old lead-acid batteries, which weighed a total of 200 pounds. I chose the 300AH (amp hour) model because I run a desktop computer in my bus, and I need enough stored power to run it at night or on cloudy days when my solar panels aren't delivering much power. Starting with a full charge, this battery can run my computer, monitor, speakers, lamp, and a fan for 30 hours or more while still keeping my phone, cameras, tablet, and other gadgets charged.
I also chose Li Time because they seem to be working hard to constantly improve their products and their customer service, and I believe in encouraging companies that try. I don't have the equipment to do a full technical review, but you can find such reviews online. According to those reviews, the build quality and performance of Li Time batteries are very good for the price.
I would buy from Li Time again, and I would recommend them to others.
Review
The batteries came pre-charged 13 V. The packaging was well done. I'm looking forward to using them in my RV.
Happy. 2nd Purchased
Happy, other than the kinda bugging for a review. Ive reviewed my first purchase. Anyway
Using to power a car fridge while boondocking off grid. So far, it holds up well. Nice design, not overly heavy, and appears to cover the time I need between shore power. Still testing the limits. Topping off with solar gets about 5-6amps per fairly sunny day with 100Watt intelligent panel. Sure, this type of battery isnt cheap up front. But that balances with longevity and predictable off shore power.