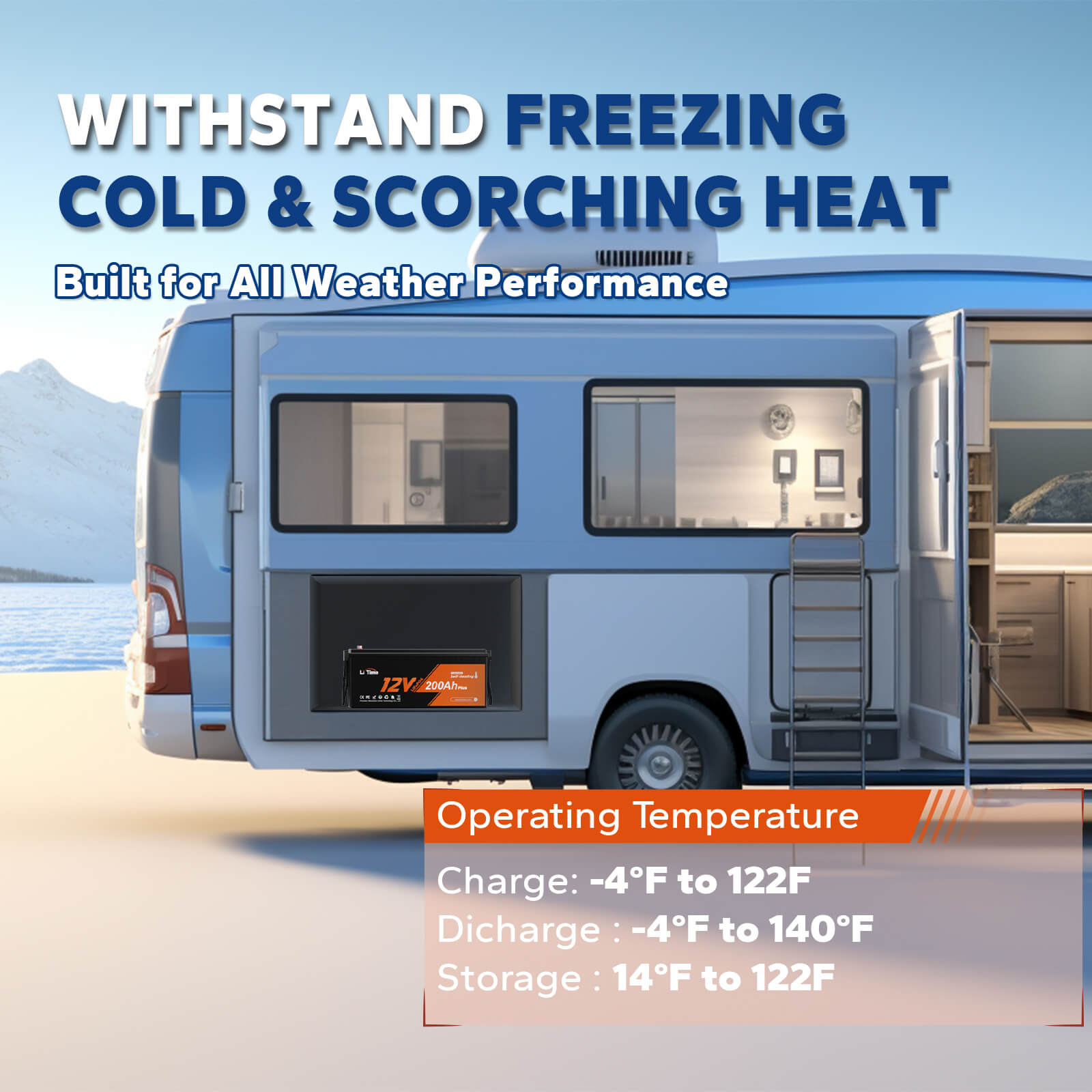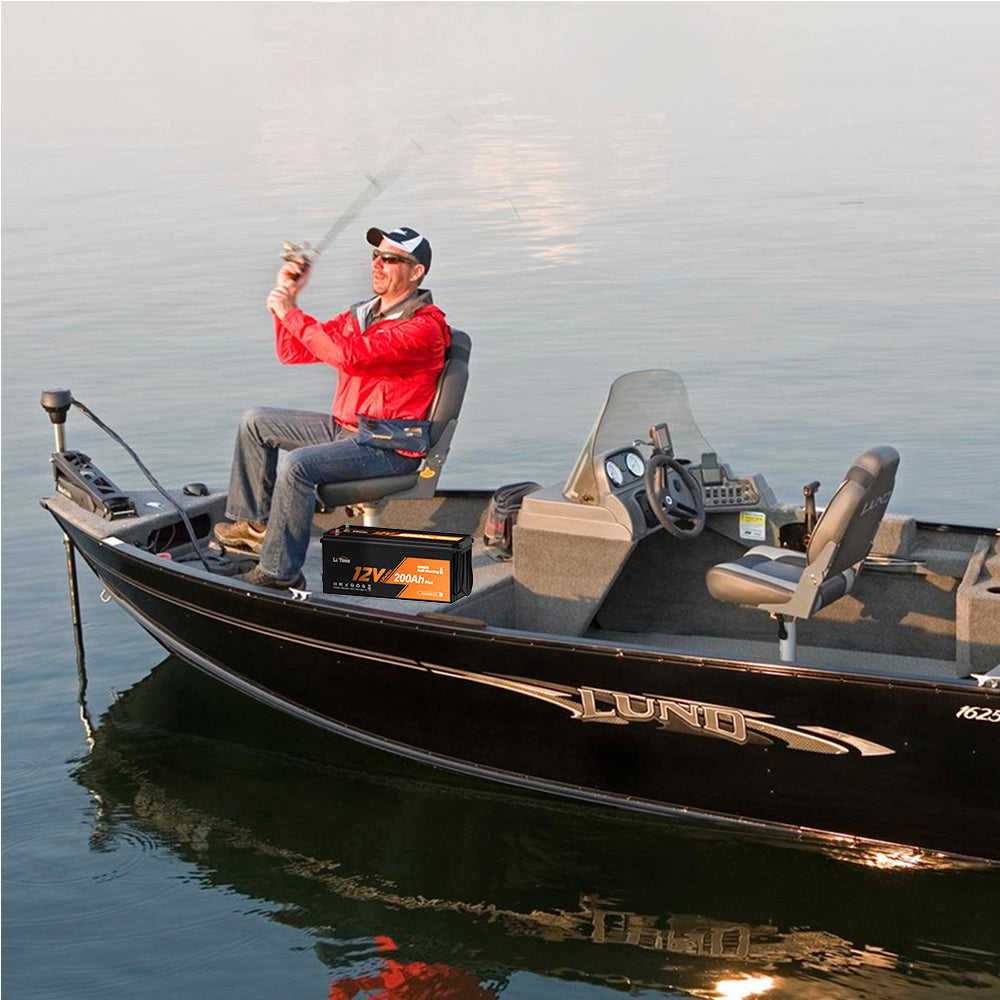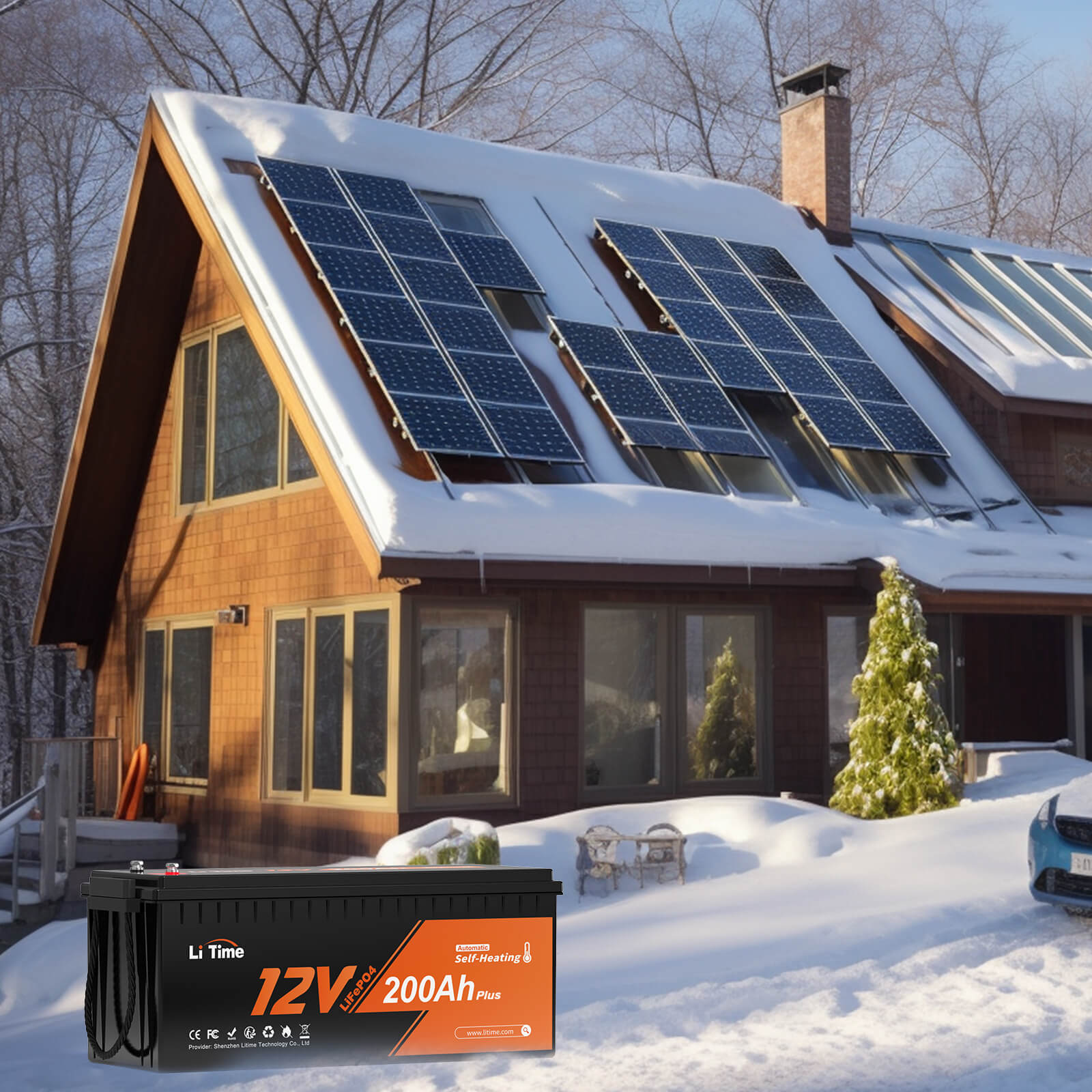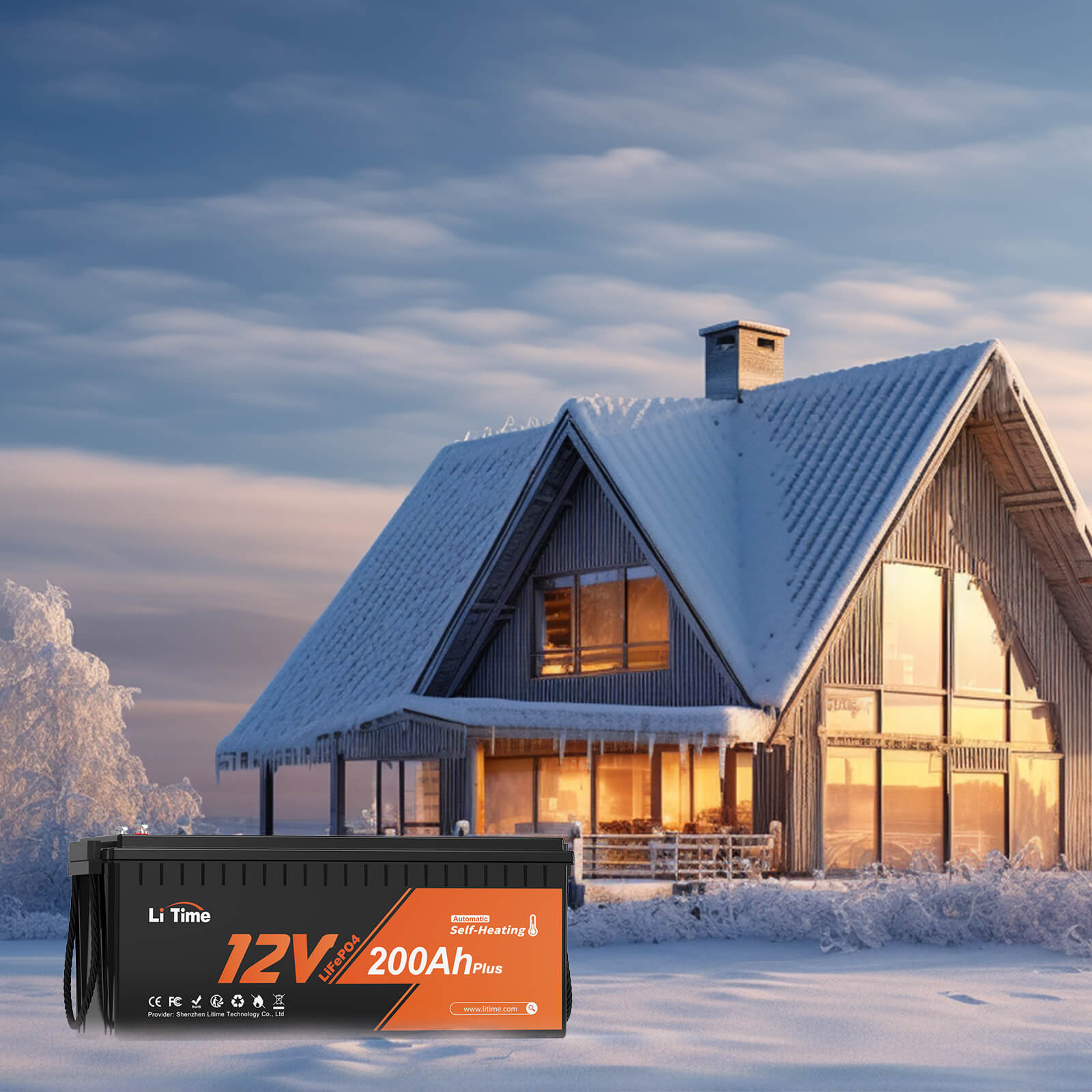 LiTime 12V 200Ah Plus Self-Heating LiFePO4 Battery, Built-In 200A BMS, Max 2560Wh Energy & 2560W load power
【Self-Heating Function】With an upgraded 200A BMS, LiTime 12V 200Ah PLUS LiFePO4 battery is improved to faster and safer heating with its dual heating pads, 2X faster heating speed and intelligent temperature control system. This item equips with automatic heating, IP65 water&dust proof, 150W heating film and low-temp sensor, better protecting your battery and save the heating time.
【150W Heating Film】LiTime 12V 200Ah PLUS LiFePO4battery upgrades to 150W heating film, which can heat battery from 14℉ to 41℉ in 30-60 minutes, and -4℉to 41℉ in 70-100 minutes, reducing the heating time greatly.
【Automotive Grade Lithium Cells】LiTime 12V200Ah Plus battery applies Automotive Grade LiFePO4 cells, providing Max 200A continuous charge/discharging current, 2560Wh energy, Max 2560W load power and over 10-year lifespan & 4000 cycles at 100% DOD.
【Versatile to Use】LiTime 12V200Ah Plus LiFePO4 Batteries can withstand freezing cold & scorching heat. Being charged from -4℉ to 122℉ and discharging from -4℉ to 140℉, its versatility allows it to be applied in multiple scenarios, making it ideal for RVs, trolling motors, marine, and off-grid.
【Expandable & Portable】LiTime 12V200Ah Plus LiFePO4 Battery supports up to 4S4P (51.2V 800Ah) to build 51.2kW output power and 40.96kWh energy. It provides 2X the energy but weighs only 30-40% of that of a lead-acid battery. The handles on both sides make it easy to carry.
【Fast Delivery & Outstanding Service】The battery will be shipped from our local warehouse in CA, TX, and GA. We also provide professional technical support and online customer service with quick feedback within 24 hours.
Please hurry! Only 1 left in stock
Free Shipping
Free standard shipping on all orders
Estimated to be delivered within 2-5 business days.
5 Years Warranty
Backed up by techical support within 24hrs.
Free Returns
30 Days Hassle Free Returns
LiTime 12V 200Ah Plus Self-Heating LiFePO4 Battery, Built-In 200A BMS, Max 2560Wh Energy & 2560W load power
Frequently Bought Together
SPECS
BATTERY
Cell Type:
LiFePO4 Prismatic
Cycle Life:
4000 cycles at 100% DOD, 6000 cycles at 80% DOD, 15,000 cycles at 60% DOD
Max. Expansion (Parallel & Series):
4S4P
Internal Resistance:
≤40mΩ
Certifications:
UL, FCC, CE, RoHS, UN38.3
BMS
Max. Continuous Output Power:
2560W
Max. Continuous Charge Current:
200A
Max. Continuous Discharge Current:
200A
CHARGE
Charge Voltage:
14.4V ± 0.2V
Recommend Charge Current:
40A (0.2C)
TEMPERATURE
Charge Temperature:
-20℃ to 50℃ / -4℉ to 122℉
Discharge Temperature:
-20℃ to 60℃ / -4℉ to 140℉
Storage Temperature:
-10℃ to 50℃ / 14℉ to 122℉
Low-Temperature Protection:
Yes (32℉/0℃)
Low-Temperature Charging Protection Auto Recovery:
N/A
SELF-HEATING
Heating Temperature:
-20℃ to 5℃ / -4℉ to 41℉
Approx. Heating Time:
@20A Charger From-10℃/14℉ : 70-90mins From -20℃/-4℉: 100-150mins
OTHERS
Size:
L21*W8.2*H 8.5 inch
Housing Material:
ABS (Flame Retardant Plastic)
FAQ
Q: Do I need a self-heating lithium battery?
A:

We've had customers use this battery when skiing ice fishing or doing other various winter activities. You can use and discharge LiTime lithium batteries in cold temperatures, but a self-heated battery might be what you want if you plan to charge it in the cold.
Q: How does the self-heating work?
A:

There are 2 heating pads built in. The auto self-heating function will be activated by the BMS when the battery is connected to a charger at -20℃ to 5℃ (-4℉ to 41℉). The heating will stop when the battery temperature reaches 10℃ (-4℉).
Q: What are the differences between Self-Heating and Low-temperature protection batteries?
A:

The main difference between the Low-Temperature series and the Self-Heating series lies in the presence of an automatic Battery Management System (BMS) heating module. The Self-Heating series allows the battery to self-warm without any action required from the user while charging. However, the low-temperature charging protection series like LiTime 12V 100Ah TM & LiTime 12V 230Ah will automatically cut-off the charging when the temperature is below 0℃ (32℉), and it requires you to take some measures, such as placing the battery in a warm indoor environment, to warm it up to 5℃ (41℉) and restore charging capability. Read on LiTime Low-Temperature Batteries VS Self-Heating Series for more information.
Q: Does the lithium battery charge itself while heating?
A:

No. The charging will start after the lithium battery heats itself to 10℃ (50℉).
Q: Can the LiTime 200Ah self-heating lithium battery be charged while heating?
A:

Yes. The LiTime 12V 200Ah self-heating LiFePO4 lithium battery can discharge if it has power while heating. However, we don't recommend discharging during the heating process, as it may harm the performance and lifespan of the battery.
Q: Can I use LiTime LiFePO4 Lithium batteries as starting batteries?
A:

No. LiTime LiFePO4 lithium batteries are not intended to be used as starting batteries but energy storage, please do not use them to start any devices.

Read on deep cycle vs starting batteries to learn more.
Q: Can I charge LiTime LiFePO4 lithium batteries with solar panels?
A:

Yes, you can charge LiTime LiFePO4 lithium batteries with solar panels. You should size your charge controller based on the voltage and current output of your solar array setup. That will ensure that your charge controller can process and regulate the power coming from your solar panels. Take a 24V MAX. 22 amps output solar system for example. You would need a solar charge controller that can handle 24 volts and 27.5 amps (125% of your max current output). Besides solar panels, there are 2 more ways to charge. Suggest reading: 3 reliable ways to charge LiFePO4 lithium batteries
Q: How do I store LiTime LiFePO4 lithium batteries?
A:

It is recommended to store LiTime LiFePO4 batteries at 50% state of charge (SOC). If the batteries are stored for long periods, cycle the batteries at least every 6 months. Recommended storage environment: 10℃~35℃ (50℉~95℉), 45%RH~75%RH.